In celebration of the ABBA National Brahman Show, the following editorial pages have been dedicated to honoring ABBA breeders and will include top breeders/exhibitors, sires and dams of the National Champions from 2012 to 2016. Congratulations to all the breeders and exhibitors of the cattle listed on these pages!
En celebración de la Feria Nacional de ganado Brahman de la ABBA, las siguientes páginas de la revista han sido dedicadas en honor de los criadores de la ABBA e incluirán a los mejores criadores/expositores, padres y madres de los campeones nacionales del 2012 al 2016. Felicidades a todos los criadores y expositores de ganado que aparecen en las listas de estas páginas!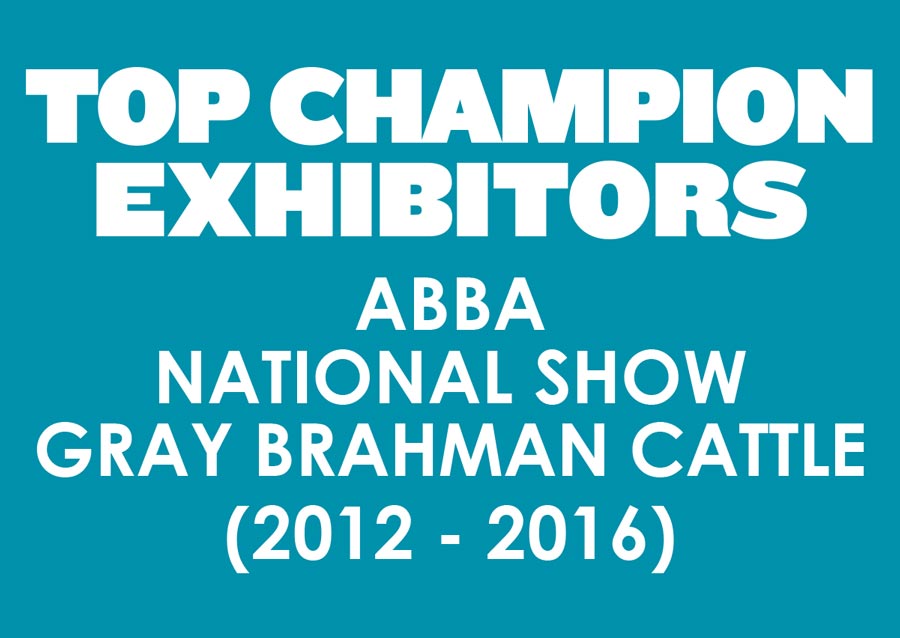 1. V8 RANCH
CHAMPIONSHIP POINTS: 75
2. J.D. HUDGINS, INC
CHAMPIONSHIP POINTS: 49
3. HERITAGE CATTLE CO
CHAMPIONSHIP POINTS: 21
4t. BULLS EYE RANCH
CHAMPIONSHIP POINTS: 10
4t. WALTERS LIVESTOCK
CHAMPIONSHIP POINTS: 10
4t. CAROL W. HAWKSLEY
CHAMPIONSHIP POINTS: 10
4t. HERZOG CATTLE
CHAMPIONSHIP POINTS: 10
8. WESLEY JANIK
CHAMPIONSHIP POINTS: 7
9t. GANADERIA TRES MUJERES, CARLOS REYES
CHAMPIONSHIP POINTS: 6
9t. DYESS FARMS
CHAMPIONSHIP POINTS: 6
9t. TIC TAC TOE RANCH
CHAMPIONSHIP POINTS: 6
12t. IS RANCH
CHAMPIONSHIP POINTS: 5
12t. BRYNN HARRIS
CHAMPIONSHIP POINTS: 5
These calculations were created by The Brahman Journal using the results from the ABBA National Show for the last five years. Points were awarded to the champions at the shows in the following manner: Grand and Group Champion 4 points, Reserve Grand Champion 3 points, Division Champion 2 points and Reserve Division Champion 1 point. The ranking was based on the number of points. This ranking was created to the best of our ability and is unofficial. Estos cálculos fueron creados por la revista Brahman Journal usando los resultados de la Feria Nacional de la ABBA de los últimos 5 años.
Los puntos se le otorgaron a los campeones de la siguiente manera: Gran campeón y campeón de grupo 4 puntos, Reserva de Gran campeón 3 puntos, campeón de la división 1 punto. La clasificación fue basada en la suma de estos puntos. Ésta fue creada con lo mejor de nuestra capacidad y no es oficial