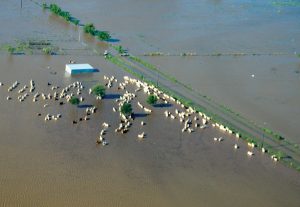 Record-breaking hurricane Harvey was nothing short of catastrophic for many citizens across Texas and Louisiana.
The Category 4 hurricane made landfall on the evening of August 25 near Rockport, a small town about 30 miles up the Texas coast from Corpus Christi. At that time, the maximum sustained winds of Harvey's eyewall reached 130 mph. The wind gusts and storm surge lead to widespread destruction of homes and buildings in the area.
Harvey was the nation's first major (Category 3 or stronger) hurricane to make landfall since Hurricane Wilma hit South Florida in October 2005, concluding an almost 12-year break.
Unfortunately, after landfall, Harvey's center of circulation stalled over South Texas on August 26 and then meandered slowly east into the Gulf of Mexico before making a final landfall again near Cameron, Louisiana on August 30.
The storms extremely slow movement from August 26-30 resulted in days of catastrophic flooding for southeast Texas and Louisiana.
Numerous flash flood emergencies were issued for the Houston and Beaumont, Texas, metropolitan areas, and for Bastrop County and nearby communities.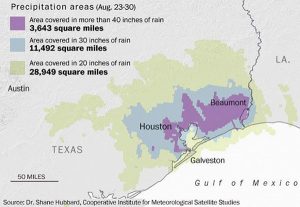 The areal coverage of locations picking up at least 20 inches of rain was greater than the state of West Virginia, while the 40-inch-plus zone was larger than Delaware (see map to right).
Harvey remained a named storm for 117 hours after landfall. According to Colorado State University's tropical scientist Dr. Phil Klotzbach, that is the longest a Texas-landfalling hurricane has remained a named storm after landfall on record.
Harvey Hits Brahman Country
Some of the world's top Brahman breeders were in the path of hurricane Harvey's slow march through Texas.
Many of these breeders are located south of Houston in small communities such as Hungerford, Wharton and Rosharon. For the most part, these places received less rain overall than the Houston metropolitan area, but the large amount of water travelling downstream through the Colorado, Brazos and other rivers caused devastation as it overflowed from the banks.
Ranches had a couple days to prepare for the rising waters, but nobody could predict the massive flooding that would occur as the crest made its way towards the Gulf of Mexico.
"We had plans a, b and c," John Coleman Locke of the J.D. Hudgins Locke Division said. "We made lots of preparations. We staged the cattle over a mile from the river, but we could see how bad it was going to be about 14 hours ahead of the crest. So, we moved them to a pasture two miles away from the river. That 80-acre pasture ended up three to five feet under water and the highway we planned to move them on, option c, had two feet of water flowing down it. We just had to leave it in God's hands."
At V8 Ranch, the story was much the same.
"We drove 300 cows one direction, six miles to a place we really thought was going to be a good place," Jim Williams said. "Then we get over there, on this highest ground in Fort Bend county, and here comes an ocean of water… We were so discouraged we turned around and drove them back the other six miles. These men were in the saddle from daylight to dark and rain was pouring down. Lots of trouble, but we never quit. We even moved 50 head of pregnant recip cows across a bridge that was three-foot deep."
In an interview on NPR, Dinah Weil of HK Cattle described the waters coming so quickly that they simply could not evacuate them all.
"But Brahmans are very intelligent, and they will usually seek the highest land," Weil said. "They will usually be okay as long as the waters don't come over their heads."
Michael Goudeau of the J.D. Hudgins' Goudeau Division also praised the Brahman breed's hardy traits during this sort of disaster.
"They can survive," Goudeau said. "The humid, wet, mosquito-infested conditions – that's their stronghold. It won't affect them much. They have a big heart."
The crest peaked in the Colorado River near the Locke Division's herd around midnight to 2 a.m., and the next morning John Coleman went by plane to check on the herd.
"It was such a relief to see the cattle were there, and that there was some dry ground," Locke said. "We had about 500 to 600 head splintered into six to seven groups. All of them swam or were washed out of the pasture they were put in."
It was a race against time to make sure all the cattle had provisions to make it through the flooding. Ranchers banded together to work cattle any way they could, utilizing planes, boats, helicopters and horses.
"We had six helicopters working one day, and we had five airboats come in from Louisiana," Goudeau said. "We pushed cattle through. We had cattle sitting in belly deep water, and they can't sit there for more than two to three days. So, we were just cutting fences, pushing them to the highest ground we could get them to, and then, we were taking hay to them on airboats."
Some Brahman breeder's homes flooded, including the Forgason, Berry and Joyce families, who live along Peach Creek, which connects to the Colorado River.
"The past week we've seen a lot of devastation here in the county and all along Southeast Texas," Brandon Cutrer of V8 Ranch said. "But the thing that sticks out most in my mind, above all the devastation and tragedy we've seen, is the love and friendship of our fellow man, people of all walks of life… random strangers would come up and help you, and the hope that gives to each of us is so uplifting… Such a wonderful outpouring of love."
How can I help?
Following the storm, the J.D. Hudgins Ranch setup a GoFundMe web page to help area ranchers. According to the site, "100% of funds received will be distributed to ranchers in Wharton and surrounding counties who have suffered losses during the flooding aftermath of Hurricane Harvey."
Those looking to donate can visit www.gofundme.com
The American Brahman Breeders Association has also set up a Disaster Relief Fund to help Texas and Louisiana breeders affected by Harvey. To learn more about it or to contribute, visit www.brahman.org