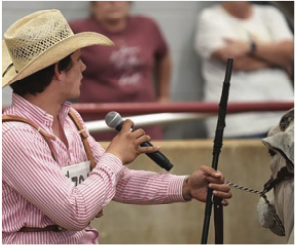 Howdy, I'm JD Sartwelle IV your recently retired AJBA President. I just graduated from Falls City High School and will be attending West Texas A&M University in the fall to study Agricultural Business and Economics with hopes of being in the fed cattle industry.
My time showing in the AJBA has been a fun ride, but I'm not going anywhere as I will be serving as your ex-officio as part of the board of directors this coming year.
I'd like to thank everyone who helped me along the way achieve my goals. I won't be leaving the breed anytime soon and hope to stay in it for the rest of my life.
I'm excited to continue my service to the AJBA this next year and to volunteer at TJBA functions in the future. I hope everyone had a good time in Mercedes, and I can't wait to see everyone soon!
J.D
---
ALL AMERICAN SENIOR & "BEST OF SHOW" PHOTO CONTEST WINNER
Congratulations to Gracie Lambright for winning her division and also "Best of Show" with this beautiful photo at the 2022 All American. Gracie also took home the 5th Overall Honor from this prestigious event.
The Brahman Journal will be featuring other winning photos from the All American in the upcoming months. Stay tuned!