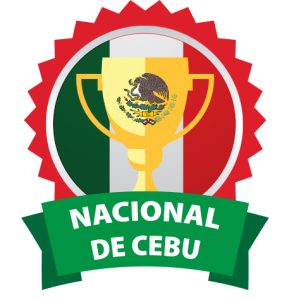 In celebration of the 2023 National Cebu Fair in Mexico, the following pages have been dedicated to honoring Mexican breeders and their cattle. It is interesting to note that the first time Mexico judged the Red Brahmans separate from the Gray Brahmans at a National Cebu Fair was in 2012. The first Red Brahman to receive the title of Grand Champion at the National Cebu Fair was in 2010 when the bull HPE MR Tabasco Passport 217/8, owned by Hermanos Pelaez Escamilla, won this honor. The red and gray cattle showed together at that time so it was a very impressive win. Rancho K30 and Hermanos Pelaez Escamilla were the breeders of the first Red Brahman National Cebu Champions in 2012.
---
En celebración de la Feria Nacional de Cebú 2022 en México, las siguientes páginas se han dedicado a honrar a los criadores Mexicanos y su ganado. Es interesante notar que la primera vez que México juzgó al ganado Brahman Rojo por separado de los Brahman Grises en una Feria Nacional de Cebú fue en 2012. El primer Brahman Rojo en recibir el título de Gran Campeón en la Feria Nacional de Cebú fue en 2010 cuando el toro HPE MR Tabasco Passport 217/8, propiedad de Hermanos Peláez Escamilla, ganó este honor. Para entonces el ganado rojo y gris se juzgaba juntos, por lo que fue una victoria muy impresionante. Rancho K30 y Hermanos Peláez Escamilla fueron los primeros criadores de Campeones Brahman Rojo en el Nacional de Cebú en 2012.
TOP SIRES PRODUCING RED CHAMPIONS
TOP PRODUCING SIRES OF RED CHAMPIONS
AT THE NACIONAL DE CEBU MÉXICO (2012 - 2022)

SIRE
OWNER
POINTS
1. +SRS MR TROUBADOR 933
SWANER BRAHMANS & ALBERTO MARTINEZ
73 POINTS
2. +TJF MR. SMOKIN GUN 109/7
TIMOTHY JAMES FENTRESS JR; BRAHMAN CONNECTION
60 POINTS
3. +MR WINCHESTER MAGNUM 999/3
CLAUDIA ANDREA SUCERQUIA ALVAREZ
41 POINTS
4. MR. 3X MAXMILLION 100
HK CATTLE; 3X RANCH - EMILY DIAL
34 POINTS
5. ASM.- JY EMPERADOR TE 1000/N7 (no photo)
GANADERIA LA JUDEA S.A.S. - HDA LA JUDEA
17 POINTS
6. VL ROJO DESIGNER 10/9
SANTA ELENA RANCH
14 POINTS
7. +MR 3X HE'S GOT THE LOOK 40/2
MORENO RANCHES, INC.
13 POINTS
7. VL ROJO GRANDE 4/95
SANTA ELENA RANCH & MARIO CARPENA
13 POINTS
TOP CHAMPION EXHIBITORS

MÉXICO NACIONAL DE CEBU

RED BRAHMAN CATTLE

(2012-2022)

OWNER
CHAMPION POINTS
1. EL DORADO
LUIS SALINAS FALCON E HIJOS
73.0
2. LOS NARANJOS
JOAQUIN ALEJANDRO RDZ. E HIJOS
61.0
3. RANCHO K30
TINO PÉREZ
59.0
4. AGROPEC NL SPR RL CV
FAMILIA NÁJERA LEAÑOS
33.0
5. GANADERIA ROSA DEL ALBA
ROSALBA GUIZAR
32.0
6. RANCHO "EL PORVENIR"
LA FAMILIA PELAEZ PÉREZ
28.0
7. GANADERIA EL PALMAR SPR
FELIPE PASTRANA CARPIO
21.0
8. GANADERIA LA HUASTECA
PRIMO CASTILLO
19.0
9. GANADERIA MAGIL
MARCO GILL
18.0
10. GANADERIA SANTA FE SPR RL
JORGE ANDRE DIAZ
12.0
These calculations were created by using the results from the National Brahman Show in Mexico from 2010 to 2021. Points were awarded to the champions at the shows in the following manner: Grand and Group Champion 4 points, Reserve Grand Champion 2 points, Division Champion 2 points and Reserve Division Champion 1 point. The ranking was based on the number of points. This ranking is unofficial and produced by The Brahman Journal.
---
Estos cálculos fueron creados usando los resultados del Juzgamiento Nacional del Brahman en México de 2010-2021 El puntaje se les otorgó a los campeones de la ferias de la siguiente manera: Al Gran Campeón y campeón de Grupos 4 puntos, a la Reserva de Gran Campeón 2 puntos, a la Division Campeón 2 puntos y a la Reserva de la División Campeón 1 punto. La posición se basó en el número de puntos. Estás posiciones no son ofi ciales y provienen de la revista Brahman Journal.