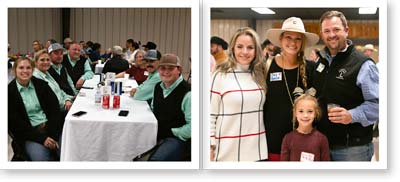 The 2019 ABBA National Brahman show was held November 18th to the 23rd and had numerous events for Brahman breeders to attend. Since 2019 marked the 95th Anniversary of the ABBA, the International Committee planned an outstanding, fun party to both celebrate the Anniversary and raise funds for the ABBA's International Committee.
Committee Chair Dr. Scott Satterfield, along with committee members Dr. Alberto Banuet and Carl Lambert worked hard to plan a fun event for ABBA members and International guests. International committee Vice-Chair Carolyn Falgout, along with committee members Michael Goudeau, Josefina Muskus, Steven (Pasquale) Swaner, Nando Hauck, Angel Eveline and Danny Villamil were also supportive of the event.
The evening kicked off with award presentations to a variety of International guests. Ava Barker of Brushy Creek was the headline sponsor of the event and she was on hand to assist in presenting awards to Rodolfo Garcia Pacheco, Guatemala – AsoBrahman president; Luis Roberto Guevara and his father of Costa Rica – Ganadera 27 and Jose Albertazzi of Dessorollo Magazine; Ruben García Osorio, Mexico – Rancho Montebello; Caesar Lastra, Mexico – Rancho Criadero Lastra; Rodolfo Moreno, Panama – CRICEPA Vice President; Tino Pérez, Mexico – Ganaderia Tino Pérez and Rancho K30.
Additional sponsors of the event and/or donors of auction items were Hoofstock Genetics; Worthington Industries (semen tank donor); Ava Barker, Brushy Creek (vapor tank); England Cattle Co.; Vicente and Mateo Banuet (Mexican saddle); BR Cutrer, Inc – Brandon and Rachel Cutrer (semen donation); Caballo Rojo Ranch, Satterfield Ranch; Kay Wermeling (painting).
Table sponsors were Swaner Brahmans, Carolyn Falgout – K Bar Farms, J.D. Hudgins and The Brahman Journal.
After the awards presentation the live auction began where Michael England, who kindly donated his services, did a superb job as auctioneer. Thank you to all who participated in the auction and bid on the items. Over $25,000 was raised for the International Committee.
Dinner was served and everyone enjoyed the meal of fajitas and sides while they listened to the background music provided by Evan Acevedo of Double A Ranch. Desert was a beautiful anniversary cake with multiple layers that Carolyn Falgout expertly cut or self serve ice cream.
Special thanks have to go to Scott Satterfield and his family who were on hand helping with everything that needed attention, such as the room and table decorations, the very important tasks of tending bar and the "unfun" task of next day clean up.