2017 ABBA INTERNATIONAL FRIEND OF THE YEAR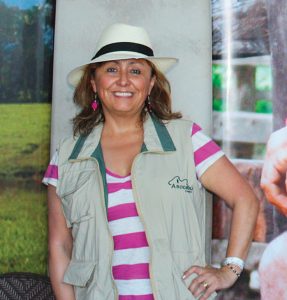 Maria Eugenia Rodrigues Ruiz will be awarded the ABBA International Brahman Friend of the Year award during the Annual ABBA Membership Meeting on March 8, 2017. Maria was selected for this honor because of her lifelong devotion to promoting the Brahman breed as well as her continual support of US breed delegates during trips to Colombia.
"Whether it was helping us get to a Field Day or assisting at a National Show, she has always been very welcoming," ABBA Secretary Armelinda Ibarra said. "She would recognize us and we felt like we had strong support from her even during times when the leadership was not so supportive."
Maria is from Bogotá, Colombia. She has been the director of the El Cebú magazine in Colombia for 30 years and Chief of the Communications Department for the country's ASOCEBU association.
In addition to her work at El Cebú, Maria had the opportunity to be the editor of the Carta Fedegán magazine (from the Colombia National Federation of Breeders) and the Cifras y Letras magazine (from the District Comptrollership).
"She has also helped the ABBA many times over the years with ad placements and translations," Ibarra said.
In addition, Maria was a TV journalist for the Las Investigadoras program and a reporter for the midday TV news.
"I am very honored and humbled to receive this award from such a prestigious international breed association such as the ABBA – an association who gave life to the Brahman breed worldwide," Maria wrote. "Today, Colombia is very proud to be the Cebu breed association that registers the most Brahman cattle in the world. And this is all due to the first importations of high quality Brahman genetics imported into Colombia from the United States."
Over the years, Maria has enjoyed making friendships with many ABBA members, especially Armelinda Ibarra; Charolette and Barry Smith; Lana Forgason; Will Detering and Michael Martin; Rick and Verna Butler; Josephina and Alfredo Muskus; Carolyn Kass Falgout; and Victoria Lambert.
"I retire from the Colombian Association of Cebú Breeders with the satisfaction of having contributed my knowledge in communications to the strengthening of the Cebu races and their produce," Maria wrote. "Also, I'm glad to have worked in the most important breeder association in my country."