The Brahman Journal Magazine Club is now live at BrahmanJournal.com! TBJ Magazine Club is a premium online magazine subscription service with three membership levels available. The club offers plans that give access to one year, ten year or the entire archive of all Brahman Journal Magazines from 1971 to current.
If you already have an account and want to know how to login, click here.
Look for the "Sign Up" link at the top of this website. Signing up is FREE and the free membership gives members access to the current online magazine each month for 15 days after publication.
After you click the SIGN UP link, you will be directed to a registration page, where you will fill in your user name, email address, first name and last name. You will also have to create and verify your password, agree to the terms and conditions, and click REGISTER for your FREE membership. You will then be redirected to either your very own account page or the login page. Your account page will look like the image below:
---
HOW TO LOG IN TO YOUR TBJ ACCOUNT
Look for the "LOGIN" link at the top of this website. Fill the labels with your user and password and click on login. You will be redirect to your account page.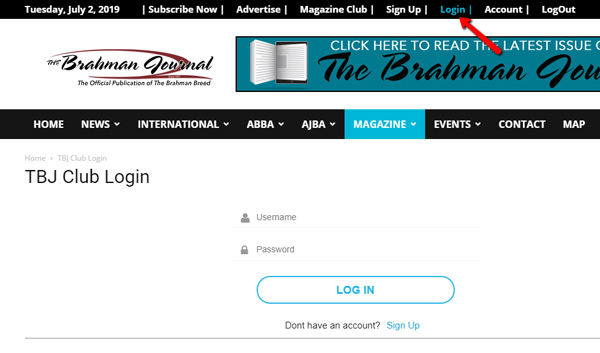 ---
HOW TO JOIN A LEVEL IN THE CLUB
At the bottom of the account page, you will have a chance to purchase a level in the club that will provide you access to different magazines. The FREE membership only allows viewing the current month's magazine for 15 days. Once you chose your level and complete the purchase you will be able to access magazines from the account page in the club.
---
HOW TO VIEW MAGAZINES
Once you have purchased a subscription plan make sure you are logged into your account and scroll to the bottom of any page. There you will see all the different magazine years that are currently available. Click on a year and if your subscription plan allows you will be able to see all the magazines available for viewing.

VIP Members have access to all the magazines and will see all the magazines listed on a page. In the example below the 1980s are available for viewing.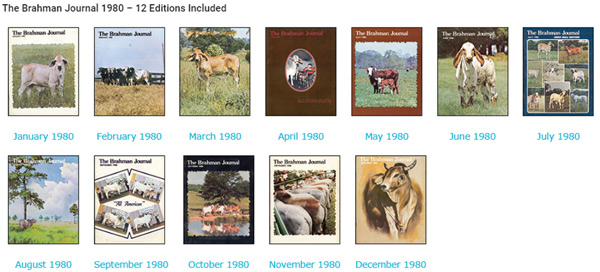 A Silver Member will only be able to view magazines from the past and current year and will see this image when they try to view the 1980s magazines.
Members can view the magazines from their mobile devices or a computer. It is important that you LOG OUT when you finish viewing the magazines as you can only be logged in with one device at a time.
Interested in learning more about The Brahman Journal Magazine Club? Visit our FAQ Page, contact the office at 979-826-4347 or email us at info@brahmanjournal.com.