Exporting cattle internationally is no simple task. Even in the best of times there is a lot involved in the exporting process. Renee Strickland of Myakka City, Florida knows this all too well. She owns Strickland Ranch & Export Inc., which is a livestock export company, as well as a commercial beef cattle ranch. She has been helping ranchers export livestock internationally since 2007.
Strickland got into the export business after making a deal to export some of her cattle with other producers to Cuba. That exportation was initiated by the Cuban government to help producers add new genetics and build their cattle herds. She enjoyed the challenges of the export process and wanted to help others.
"I decided that there was nobody in Florida at the time that was offering to handle the entire exporting process," Strickland said. "I knew this was a way to reinvent myself as a businesswoman."
This past December Strickland was contacted by Yobert Flores, a man she had previously worked with from Peru, about a government tender in the department of Pasco. A group of ranchers from Peru joined together to win a bid from the Peruvian government and hired Yobert to be the agent. Since the cattle were for a government project to help local ranchers improve the genetics of their herd, it was important that they fit certain criteria. Yobert's job was to make sure they selected the best cattle for the producers' needs and to assist with the exportation from the USA to Peru.
Strickland knew this would be a big order to fill and started contacting Brahman ranches from Florida all the way to Texas. Most of these ranches either did not have enough cattle to fill the order or did not have ones in the right price range at that time.
"The requirement for anything going into Peru right now is that they must be registered cattle because they are trying to get registrations for the first time and improve the quality of their genetics," Strickland said. "It can be hard finding everything you need in one place on a certain budget."
Strickland remembered meeting Grant Vassberg of Kallion Farms at the Houston Livestock Show and Rodeo two years ago and heard outstanding things about his program. She knew this group from Peru needed a variety of genetics to help with their beef production and felt Kallion Farms could provide those bloodlines
Strickland contacted Grant in December and explained to him what the group from Peru needed to fill this order. Grant knew he could do it but contacted two other ranches to help get this group a variety of genetics.
Grant reached out to Rey Salinas of Salinas Ranch and Johnny Gnemi of Silent G Ranch to help him fill this order.
"They are both ranches with outstanding programs, and I knew they would be great to work with," Grant said. "It ended up working out well because the ranches were close enough to visit all three in one day."
In February, Yobert flew in from Lima, and Strickland, who had just flown in from Florida, picked him up at the Houston International Airport at around five in the morning to start their journey.
The first stop was Kallion Farms in Bryan, Texas. Yobert and Strickland were impressed with how docile the Brahman cattle were.
"I showed them what I think is one of my more nervous bulls, and when we walked into the pen, they were shocked with how calm the bull was," Grant said. "They could not believe I considered this bull nervous."
Yobert was impressed with not only the docility but also the carcass quality. These were both important factors for the genetics being exported to Peru.
Yobert chose ten yearling heifers and four yearling bulls from Grant's herd. The next stop was a visit to Salinas Ranch.
When Yobert and Strickland arrived at Salinas Ranch in Carmine, Texas, Rey took them around and talked to them about his program. Yobert showed interest in the polled genetics and wanted to learn more.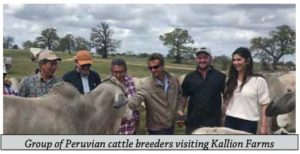 "He wanted to include polled genetics in the importation because they knew moving forward that you have to have those polled genes within your bloodline," Salinas said. Yobert ended up looking through the papers and once again paid attention to the carcass quality of the polled Brahmans Rey was offering. He chose fifteen yearling heifers and a yearling bull. Of these, eight were polled.
Then Strickland and Yobert drove to New Waverly, Texas to Silent G Ranch where Johnny Gnemi said they were ready to get the tour started. They all jumped in the truck and were off to look at the animals.
Yobert asked Johnny where his seedstock came from, and Johnny explained how most of his cattle came from J. D. Hudgins bloodlines. Johnny was impressed with how much Yobert knew about the Hudgins' genetics that he had used in his herd.
"He was very familiar with the different bulls, and as he would flip through the papers, he would mention certain bulls' info," explained Johnny. "You could tell this guy had done his homework and knew what he was doing."
As they were getting ready to leave, Yobert asked Johnny to make copies of all the papers of the cattle he was interested in. Yobert planned on making a spreadsheet with the papers, looking at their bloodlines and EPDs. Then, he would decide after he analyzed that data.
Since the group was not interested in red genetics, it was important to Yobert there were no red genetics in the pedigrees of any of the cattle. There were even two calves in the pasture at Silent G Ranch that Yobert remarked were some of the best ones on the ranch, but he said they could not be included as they were red.
"He was right – those were some of the best calves on the ranch," explained Johnny. "I told him that sometimes they stay red or sometimes they turn a dark gray or blackish color. Even though Yobert wanted them, the group decided they did not want those calves included."
The group eventually decided on fifteen yearling heifers from Silent G Ranch.
Whether it be docility, pheontype, polled genetics or carcass merit, each of these ranches offered something unique to be added to the Brahman genetics in Peru.
In March, a group of eight breeders from Peru visited the three ranches while attending the Houston Livestock Show and Rodeo. This group got a chance to see the genetics that they would be adding to their herds in Peru.
At Kallion Farms Grant showed the group the heifers and bulls. While the group was standing out in the pasture near the cattle pens, as a joke Grant got a bucket of cubes, threw it at the group's feet and called his herd. About eighty Brahmans took off at a run to where the group was standing. The group was nervous but ended up laughing after realizing how docile these Brahmans were when they stopped and wanted the cubes and to be petted. Grant's favorite part was when they started to take selfies with the cattle.
"I didn't know how they would react from seeing show animals that are in show condition compared to cattle that still look great but are in working condition," Grant said. "They really loved the cattle that were at the ranches and even said that these were the type they needed and wanted."
The group enjoyed being able to visit these ranches and see what ranches were like in Texas, but this group was still there to make sure they were getting the genetics they needed.
"From what I understand they were looking for quality maternal animals with a good structure to them," Salinas said. "They were blown away with the quality we had and excited to be adding these genetics to their herds back home."
Now that Yobert had seen everything and chosen what he felt were suitable to their need in Peru, it was time to get the cattle ready to export.
All cattle being exported overseas must be quarantined for at least thirty days and receive all the tests and shots required by the country they are traveling to. Strickland has been through this process many times before, but never during a pandemic.
"COVID-19 has unfortunately made my job harder, but luckily the USDA has done an excellent job of keeping live cattle exports going during the pandemic," Strickland said.
COVID-19 caused several complications that Strickland had to deal with, one of which was trying to receive payment from Lima, Peru. Peru had strict social distancing laws which made normal business procedures take twice as long. No one could come and go freely into the banks, so the lines were exceptionally long. Not getting the payment on time caused the flight to be delayed twice, which pushed it back two weeks.
Another complication Strickland faced was not being able to travel on the plane with the cattle to Peru.
"Whenever I export cattle, I always fly with them so I can check on everything and make sure the journey is going smoothly," explained Strickland. "The COVID-19 travel restrictions caused me to not be able to fly with them and that was tough because as far as I am concerned those are my babies until I deliver them."
Around the time everyone received word the cattle were ready to be exported, Peru shut down their airports. Luckily, their airports were still accepting cargo, but Salinas thought it would only be a matter of time before they would stop accepting anything coming in internationally.
"COVID-19 was raging, the world seem to be coming to an end, and here we were social distancing stateside, trying to get these yearlings ready to be exported to a country that may not even accept them," Salinas said.
As the quarantine of the cattle continued, they ran into several obstacles of getting the necessary bloodwork done. Most labs were closed or observing social distancing, so you had to call in and let the lab know you were coming, knock on the door, and slide the samples into the lab.
"These are hard times to get a project like this done, and much to Renee's credit, she kept this going," Salinas said.
Once the cattle had passed all the tests and finished their quarantine, it was time to get them on the truck and headed to the airport. When they got to Miami the cattle received a chance to rest for about 18 hours while USDA representatives looked over them one more time.
After that, they were loaded into their crates in the early hours of Sunday morning where they were weighed by the payload master, who then placed them correctly on the plane to keep it balanced.
Once the cattle were loaded, the plane took off and they landed in Lima, Peru around one in the afternoon. Of course, upon arrival the cattle entered quarantine outside of Peru for the 30 days.
The Peruvian agriculture department will run several more test and make sure the cattle are clean before letting them travel to their final destination in the department of Pasco, to the town of Oxampampa.
This has been one of the largest cattle exports to arrive in Peru since they opened back up to allowing cattle exports to come in from America.
In total, there were 65 head of registered beef cattle exported to Peru to diversify and improve the genetics of cattle in the existing herds, with 42 of those being registered Brahman cattle.