Marketing Opportunities for F1s
by Emily Otto
In this edition of the ABBA F1 Newsletter, I'm going to talk about the different marketing opportunities available to F1 breeders looking to sell pens of cattle across the United States. There is a plethora of well-managed sales held every year as well as online marketing resources available.
The "Queen of Cow Country", the certified F1 Brahman female, is in high demand, but the key to getting top dollar for your quality animal is putting her in front of the right buyers at the right time and having her in good condition.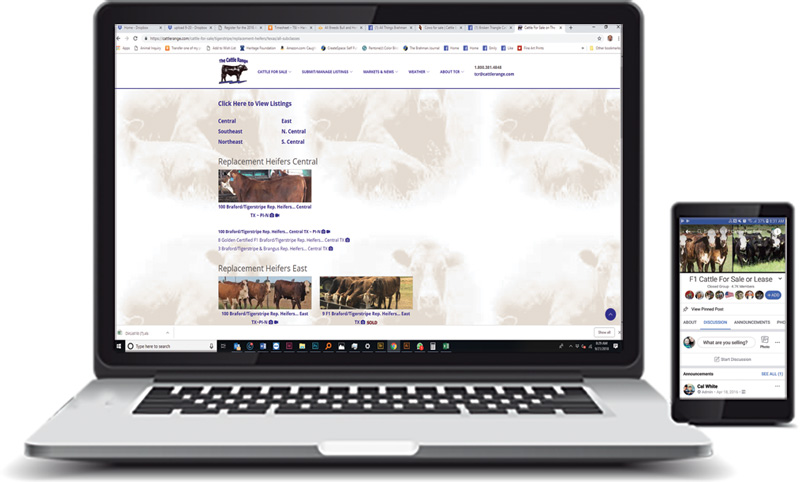 Consigning to F1 Sales
As my dad always told me, "Remember the 5 Ps – Prior planning prevents poor performance."
Figure out what type of pen you want to put together – open heifers, bred heifers, pairs or maybe a 3-n-1 set, and make the right management choices to ensure your cattle are in the right stage of life and condition when the sale takes place.
Also, keep in mind that some of the big sales need your nomination forms months in advance and your cattle must be accepted by a sale committee. For example, the 2019 Houston Livestock Show and Rodeo All Breeds Sale packet is posted on the Gulf Tex marketing website already and the sale isn't until the last week of February.
If you are a new participant interested in consigning to a sale, be sure to contact each sale's respective manager to gather information about consignment requirements and time frames.
Most sale managers will provide an informational packet to consignors that includes important information, like a schedule of events, information on sale requirements, nomination forms, taxes, and more. At this time, producers will need to make the final selections for their pens and ensure the cattle meet all necessary sale requirements.
In the last weeks leading up to the sale, consignors should get their animals in top condition, re-tag them, clean them up and get them ready to haul! Keep in mind that all sales require valid health papers, and if you are going to a sale with a lot of out-of-state buyers, go ahead and get their travel papers/tags.
I can't recommend enough that consignors get good photos of their lots, and if possible, video. A little advertising can go a long way! Send your photos to the sale manager early so they can use them in the sale book or on their website. Check out last year's catalog if you can find one and see how much room you have for footnotes. Put together a good, size-appropriate writeup about your cattle. Make an announcement on your ranch's website and/or Facebook page, post to online cattle groups, call up past clients and buy ads in appropriate publications. Let people know what you have for sale and when they will sell!
Online Options
If you don't want to participate in one of the larger consignment sales, you can choose to post your cattle online for sale by private treaty. The trick is connecting to the right buyer; you need a cattle person to notice your listing amongst the sea of digital media.
Two of the most post popular websites for selling f1 cattle are cattlerange.com and cattle-exchange.com. Facebook can be a great sales resource too. Technically, it is against their policy to sell animals using the marketplace forums, but most of the time, breeders can still list cattle for sale by private treaty in groups and get good responses.
Some of the groups I recommend joining are "F1 Cattle For Sale or Lease", "Brahman & Brahman Cross Cattle Farmers", "The Cattlemen's Connection", "Brahman Cattle Greys Reds Blacks Forum", "Cattle And Equipment For Sale", "SOUTHEASTERN CATTLE OWNERS", "Hereford Cattle – By Private Treaty ONLY!", "Angus Cattle Blacks Reds Forum" along with others. This is just a short list. Be sure to search for groups that are connected to your geographic region too. For example, if you live in Texas or nearby, join the "Texas Cattle and farm Equipment For sale" group.
Plan on answering lots of private messages (check your message request folder on Facebook too), phone calls and emails. It's hard to beat a live crowd of ready-to-bid cattlemen with trailers in tow, but if you are tech savvy, you can connect to buyers with zero to minimal commissions and on your time table. Feeding cattle is expensive and not having to wait that extra month or two until the sale might be worth it to your operation. You just need to weigh the pros and cons for your situation.
Spring/ Summer Consignment Sales
Below are some of the top Spring and Summer sales venues for selling F1 cattle. If you are interested in consigning to one of these sales, call the contact numbers listed below and start planning this fall!
Feb. 9 – Annual Southwestern Exposition Invitational Commercial Heifer Sale
Fort Worth, Texas • Contact Robert Schaucher at 817-219-0102
**Feb. 13 – Annual San Antonio Livestock Show All Breeds Bull & Commercial Female Sale
San Antonio, Texas • Contact Jim Banner or Michael Sturgess at 210-524-9697
or Anthony Mihalski at 210-648-5475
**Feb. 27 – Houston Livestock Show Commercial Female & Registered Range Bulls
Houston, Texas • Contact John Atkinson at 979-482-2018
March 2 – Cattleman's Opportunity Female Sale
Nixon, Texas • Contact Lew Thompson at 830-965-3058
March 9 – Zero Brahman Ranch Annual Select Heifer Sale
Thibodaux, Louisiana • Contact Michael Herbert at 985-446-1316
Early March – Independent Cattlemen's Association All Breeds Bull & Heifer Sale
Beaumont, Texas • Contact Bill Hyland at 512-620-0162
**March 16 – ABBA National F1 and TBA Brahman Female Sale
Caldwell, Texas • Contact Milton Charanza at 979-450-8588
**March 23 – Louisiana Brahman Association Brahman/F1 Invitational Sale
Opelousas, Louisiana • Contact Mike Dominique at 337-654-4030
April 6 – Southern Classic Registered Brahman and F1 Sale
Hattiesburg, Mississippi • Contact Philip Gilstrap at 864-506-0463,
Matt Pounds at 334-590-7535, or Mike Mitchell at 601-916-6766
April 6 – Heart of Texas Special Replacement Female Sale
Groesbeck, Texas • Contact Tom Johnson at 817-291-5121
April 13 – "Queens of the South" Spring Replacement Sale
Crockett, Texas • Contact Blaine Weiterman at 903-360-1743
April 20 – Deep South Brahman & F1 Sale
Meridian, Mississippi • Contact Chris Shivers at 713-202-1747
May 8 – Cattleman's Top Cut Sale
Navasota Texas • Contact Tom Johnson at 817-291-5121
June 1 – Carolinas Brahman Breeders Association Sale
Pendleton, South Carolina • Contact Philip Gilstrap at 864-506-0463
or Matt Pounds at 334-590-7535