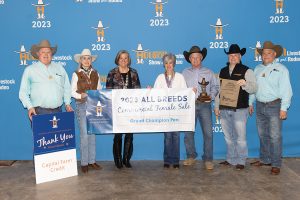 The 56th Annual Houston Livestock Show and Rodeo All Breeds Sale took place on Wednesday, March 1 at the NRG Arena. More than 379 buyers registered to buy cattle. 63 bulls and 419 females from some of the industry's most renowned breeders were sold to 95 buyers from Alabama, Georgia, Louisiana, Texas, Utah and Virginia. The sale grossed $1,481,300.
Prior to the sale a group of qualified cattlemen and industry professionals evaluated the bulls and females and selected champions. The Overall Champion Pen of Females was consigned by Bell Cattle Company of Gainesville, Texas. This pen of 5 Brahman x Hereford F-1 Females with Angus sired calves brought $4,300/head and sold to Bubba Bozka of Shiner, Texas. The Overall High Selling Pen of Females was a consignment by the South Poll Grass Cattle Association.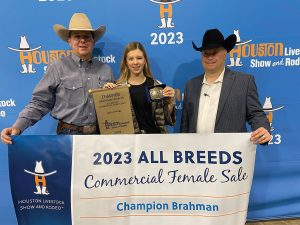 This pen of 5 bred Registered South Poll Females sold to Bent Creek Farm of Prospect, Virginia for $4,900/head. The High Grading Brahman Female Pen was consigned by the Wichita Ranch Martin Division/ Schwartz Partnership of Brenham, Texas.
The Overall High Grading Bull was a Registered Charolais bull consigned by Kyle Swanson of Hermann, Missouri. The Highest Selling Bull was a Registered Hereford bull consigned by Rocking Chair Ranch that sold for $12,000 to Scott Cattle of Nederland, Texas. The High Grading and High Selling Brahman Bull was Magic Pat 436/0 consigned by Magic Ranch of Huntsville, Texas. This is the third year in a row this ranch has won top grading Brahman bull.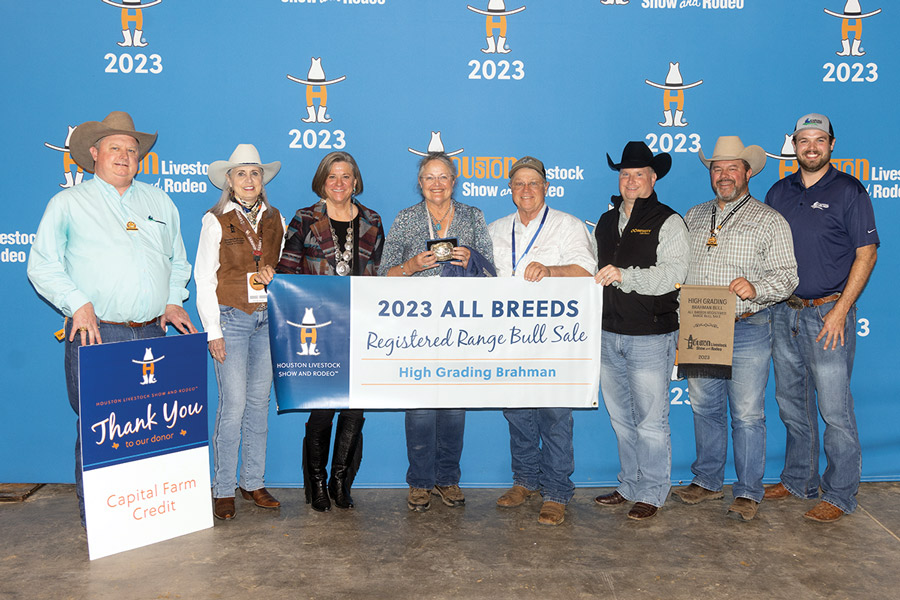 They are also one of two ranches to ever win grand or reserve grand honors at the sale. "We are big fans of the Houston Livestock Show and Rodeo All Breeds Sale," George Stiles, owner of Magic Ranch said. "The All Breeds Committee and sale team put on a top notch event and have always made us feel like we belong. From the first year when we brought Magic Grayson and won Reserve Grand Champion Overall, Bubba Sartwelle treated us like family. Seeing the scholarship money raised in his honor during this year's sale was really special."
Overall, 419 head of females averaged $2,814.44. Pairs (148 head) averaged $3,319.26. Brahman x Angus F-1 Pairs (15 head) averaged $2,933.33, and Brahman x Hereford F-1 pairs (63 head) averaged $3,674.60. Bred females (60 head) averaged $2,758.33. Five head of bred Brahmans sold for $3,100 each. Bred Brahman x Hereford F-1s (35 head) averaged $2,628.57. 211 head of open females averaged $2,476.30. Open Brahman Females (39 head) averaged $3,005.13.
Open Brahman x Angus F-1s (24 head) averaged $1,862.50, and open Brahman x Hereford F-1 (83 head) averaged $2,690.96. Bulls averaged $4,794.44 (63 head total) with Brahmans averaging $3,700 on 5 head. The All Breeds Livestock Sale Committee of the Houston Livestock Show and Rodeo conducted the sale. The Committee is grateful to its contributors who provide funds for exhibitor premiums, hospitality for buyers and sellers, and overall expense defrayment. Doak Lambert of Decatur, Texas was the auctioneer. The sale was managed by Infinity Cattle Services owned by Chris Shivers of Houston, Texas.