1ST MATERNAL MERIT ELITE PLUS COW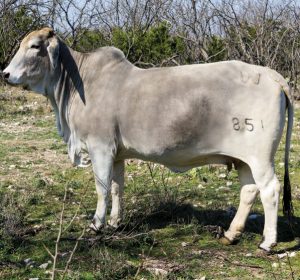 Steve Wilkins of Flying W Ranch will once again make history during this years ABBA General Membership meeting. Last year Wilkins was honored to be the first recipient to ever be awarded the ABBA Performance Breeder of the Year recognition. This year Wilkins will receive a Maternal Merit Elite Plus Cow award for =SRW MISS FLYING W 851/12. It will be the first time in the history of the ABBA for any cow to be recognized for this achievement.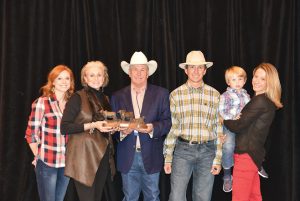 "Achieving this milestone for our ranch is very similar to receiving the first ever ABBA performance breeder of the year award," expressed Steve Wilkins. "We have always concentrated on fertility and maternal traits so this validates our focus of over 40 years of breeding productive efficient cattle. To have a cow calve before two years of age and then continue to calve within a 365 day interval and raise an above average calf three straight years and have an MPPA of 101 is asking a lot, especially in our environment in West Texas."
Chris Shivers, Executive Vice President of ABBA explains, "The Elite Plus Maternal Merit Cow level was started in 2012 in an effort to recognize the females that meet the previous requirements of the Elite level but who calved before their second birthday. With the breed placing emphasis on and making great strides to produce cattle that reach puberty at an earlier age this recognition is significant to identify the cattle that meet these strict requirements."
Wilkins is quick to tell breeders,"I feel strongly about challenging our cattle to do more and use performance testing so we can make our breed relevant for the future. I encourage every member of ABBA to utilize the BHIR program as much as they can to insure our breed progresses as the industry does."
The ABBA and The Brahman Journal congratulate Steve Wilkins and Flying W Ranch on this historic achievement.