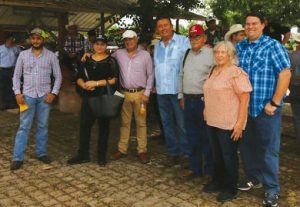 As part of the XXIII National Brahman Exhibition in Tampico Tamaulipas, Mexico, Primo Castillo and his wife Daniela Castillo, owners of Ganadería la Huasteca, held a field day at their ranch located in the town of Axtla de Terrazas ateast of San Luis Potosí.
Breeders from Costa Rica, Colombia, United States, Guatemala, Honduras, Brazil and different states of Mexico attended this event.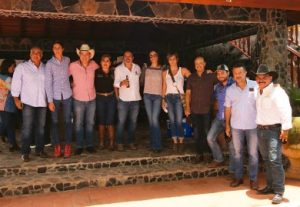 The Castillo family received all their guests at their ranch with a typicalHuasteca Potosina breakfast, followed by a drive-through of some of the lots that make up the 1977 acres of the ranch. On this tour, Primo Castillo showcased the Red Brahman genetics that he has bred for more than 12 years, which today are recognized in Mexico for their meat, reproductive quality and breed character.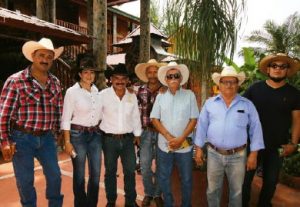 In the different paddocks, guests observed cattle born from IVF, embryo calves, AI bred females and natural service females; also, a small lot compared to the others, with more than 50 heads of grayBrahman cattle.
At the end of the almost 2 hour tour, Primo and Daniela Castilloshowed a small group of females that would be the first to be exported to the new Ganadería la Huasteca United State division.
Daniela, Primo's wife, told us: "Being a cattle breeder was an unattainable dream for Primo when he was a child, but that dream motivated him to work hard".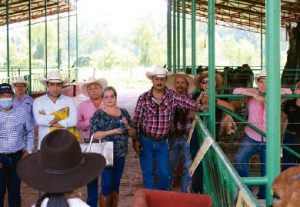 "I grew up in a very poor family in Querétaro, and at the age of13, I went to live in the United States, but I never forgot my roots. When I was able to return with the little money saved, I bought this ranch," Primo Castillo commented to the group of guests who were observing the cattle. Then he added "I bought our first cows with the guidance of Carlos Tamayo Cárdenas, whom I met at an event in Houston, Texas. Without knowing me, he helped me select my first cows, which are the foundation of our livestock. I purchased cattle from Carolyn Kass Falgout of K-Bar Farms, who became my American mom".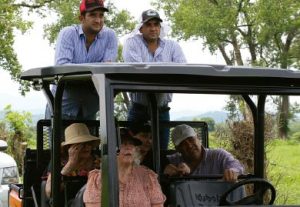 In addition to Carolyn, Primo Castillo acquired genetics from Swaner Brahmans, Ken Stone and Kim Becker.
"We didn't know anything about cattle. To learn, we had to visit many places. Daniela and I had the opportunity to travel to United States, Africa, Panama, Brazil and Colombia; looking, studying but above all having the humility to learn from everyone we met, from the breeders or ranch owners to the cowboys who looked after the cattle," Primo said. He then ended the drive through saying that his next goal is to export his cattle to United States and later to the whole world; without limiting agreements or restrictions.
After the tour, the Castillo family shared a pleasant lunch with their guests, music and dancing.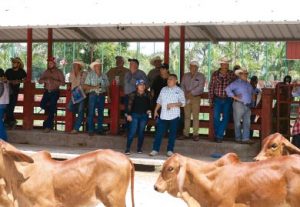 The following days, Ganaderia la Huasteca won 8 champion titles in the Red Brahman Show including Reserve Ternero Champion bull, Reserve Becerro Champion bull, Joven Champion bull, Reserve Becerra Champion bull, Joven Menor Champion female, Reserve Joven Mayor Champion female, Grand and Joven Mayor Champion bull as well as Grand and Adulta Champion female.