V8 RANCH WINS THE HK MEMORIAL TROPHY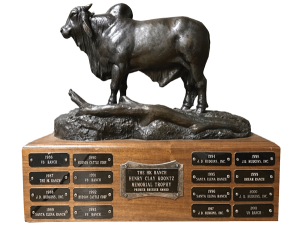 V8 Ranch of Boling, Texas will be awarded the HK Trophy at the 2016 ABBA Membership Meeting March 8 in Houston. This is V8 Ranch's eighth time to win the prestigious award.
The HK Memorial Trophy is presented each year in memory of Mr. Henry Clay Koontz. This award was first presented in 1986 after the tragic death of Mr. Koontz who was a long-time breeder and promoter of Brahman cattle. The trophy is a bronze casting of the National Champion Bull, +HK Mr. America 61/9, better known as "Millionaire". This bull had one of the biggest impacts on the Brahman breed of any bull in history. Each year this award is presented to the ranch or individual who accumulates the most points at the previous year's International Brahman Show. An explanation of how the HK Trophy points are tabulated follows:
1.-Seven points to champion bull and cow.
2.-Five points to reserve champion bull and cow.
3.-Five points to each division champion (calf, junior, intermediate and senior).
4.-Three points to each division reserve champion.
5.-Two points to each class winner.
6.-Five points to the exhibitor of the first-place winners of the Produce-of-Dam, Embryo-Produce-of-Dam, and Get-of-Sire classes.
7.-In case of a tie, one point will be awarded to the second-place class winner of both sex divisions.
8.-In cases of multiple owned animals, points will be evenly divided amongst all owners.
PAST HK TROPHY RECIPIENTS
1986 – V8 Ranch
1987 – HK Ranch
1988 – J.D. Hudgins, Inc.
1989 – Santa Elena Ranch
1990 – Hudson Cattle Corp.
1991 – V8 Ranch
1992 – Hudson Cattle Corp.
1993 – V8 Ranch
1994 – J.D. Hudgins, Inc.
1995 – Santa Elena Ranch
1996 – Santa Elena Ranch
1997 – J.D. Hudgins, Inc.
1998 – J.D. Hudgins, Inc.
1999 – Dream Ranch
2000 – J.D. Hudgins, Inc.
2001 – V8 Ranch
2002 – V8 Ranch
2003 – Double A Ranch
2004 – Heritage Cattle Co.
2005 – V8 Ranch
2006 – J.D. Hudgins, Inc.
2007 – J.D. Hudgins, Inc.
2008 – J.D. Hudgins, Inc.
2009 – J.D. Hudgins, Inc.
2010 – J.D. Hudgins, Inc.
2011 – J.D. Hudgins, Inc.
2012 – J.D. Hudgins, Inc.
2013 – Heritage Cattle Co.
2014 – J.D. Hudgins, Inc.
2015 – V8 Ranch