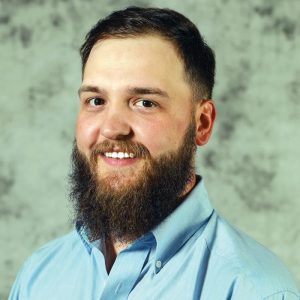 I am extremely honored to be joining the ABBA team and its membership in the pursuit of the perfect herd of Brahman cattle. It's invigorating to get out from behind the desk to walk the barns, look at the cattle, and to jump right in to answering questions about EPDs, genotyping, and genetic evaluations.
I want to thank all of you who went out of their way to welcome me to the team during our time in Houston, and a special thanks to the show committee for putting on a fantastic International Brahman Show.
On my first day, our ABBA team and the show committee collected weights and measures, verified paperwork, and color classified 478 animals in just over 4 hours. That's on top of getting their own animals through the scales, setting up their stalls, and helping the rest of us keep our heads screwed on straight.
The amount of work that goes into making it look that easy is astounding, and I am truly humbled by their work ethic. I know the improvement of our breed is assured if we follow their example of prioritizing the collection of complete and accurate data in our herds. Having complete performance data on our herds allows myself and other researchers of our choosing to dive deep into the science of Brahman cattle to produce new and better tools that are specific to our needs.
I look forward to the opportunities and challenges that will arise along the way, but I believe that we are uniquely poised in this moment to make rapid genetic progress in many fronts including meat quality, fertility, and overall productive efficiency. If we are able to seize these opportunities, I know we will see improvements to our economic and environmental sustainability as an organization.