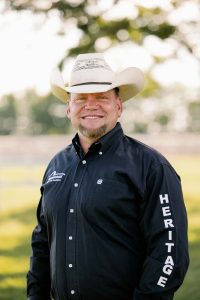 Haz click aquí para leer el artículo en español.
This year Judd Cullers, owner of Heritage Cattle Company, has the honor of judging the International Brahman Show at the Houston Livestock Show and Rodeo for the second time in his judging career. He joins an elite group of judges to be invited to judge this prestigious event more than once.
Lee Berwick is the only person to have judged the ABBA International show three times, as he judged the very first International Show in 1982 and then again in 1987 and 1988. The list of judges who have been invited twice to sort the Brahman cattle at the Houston Stock Show include impressive livestock judges such as Max Watts who judged in both 1985 and 1989; Bob Massey who judged in 1983 and 1990; Doug Pierce who judged in 2007 and then again on the three man panel in 2014; and Blake Nelson who judged on a three man panel in 2016 and then judged solo in 2019.
The first time Judd Cullers judged the Brahman cattle at Houston was in 2002, when he was only 33 years old. At this time, he is still the youngest person to have judged the ABBA International Brahman Show, which is the largest Brahman show in the USA. "I can remember getting the call and being told that I had been selected to judge the Houston show," recalls Judd. "I was 33 years old and thought what an honor, and then I felt the nerves, the butterflies and the excitement about judging Houston. In preparation for the 2002 International show, I relied heavily on my up bringing, the teachings of my mentors and especially my dad, Ed Cullers." Judd is the son of Ed and Francis Cullers and is a fifth generation grandson of Josiah Dawson Hudgins, better known as J.D. Hudgins.
Consequently, he grew up attending and exhibiting at all the major Brahman shows. Judd is globally recognized for his expertise as a breeder, as well as a livestock judge. "When judging a show, I try to see the cattle in a very fresh way and give an honest evaluation," explained Judd. "I feel like cattlemen both in the USA and Internationally respect my ability to see cattle and place them honestly." He has judged most of the top major Brahman events in countries such as Mexico, Guatemala, Costa Rica, Honduras, Nicaragua, El Salvador, Panama, Dominican Republic, Colombia, Venezuela, Ecuador, Bolivia, Brazil, Thailand and Paraguay.
When Judd sorted the Brahman cattle at Houston in 2002 there were some very impressive cattle exhibiting. Because the World Brahman Congress would be held later that year in Australia, there was speculation that Houston would not be as well attended as in years past. That wasn't the case at all. It was easily one of the largest shows at that time, in terms of the entries and crowd.
There was a large international audience that filled the Reliant Arena's stands to watch the judging.
The actual number of Brahman cattle in the barn, some 700 head, was similar to what it had been for previous years. The 2002 International Grand Champion Gray bull was Mr. V8 612/5, exhibited by V8 Ranch. He was purchased by a breeder in Mexico and left the country right after the Houston Show. He is currently owned by Carlos Guillermo Salcedo Gonzalez and Alfredo D'argence.
The 2002 International Reserve Grand Champion Bull was +BNA The Deacon Manso 253 bred by Barney Joe Allen. He went on to sire over 300 head of progeny in the USA and his name can be seen in pedigrees of some of the top current day bulls and females. SRS Mr. Red Bachelor 640 captured the International Grand Champion Red Bull honors. He was bred by Swaner Brahmans. This bull was sold prior to showing at Houston to Rancho Millenium of Mexico and was shown by Dean Galbraith, who at that time operated an international fitting service called Tropicow.
Judd looked to the Red Calf Champion Bull, +Mr. MK Vernon 349/1, to select for his International Reserve Grand Champion Red Bull.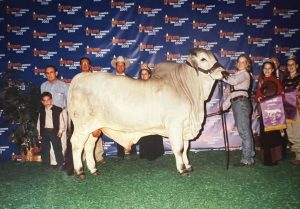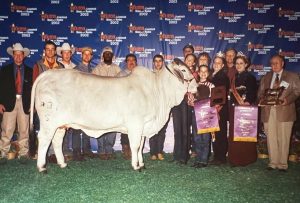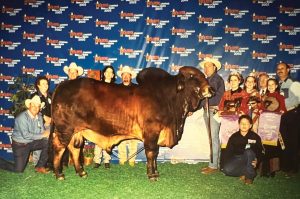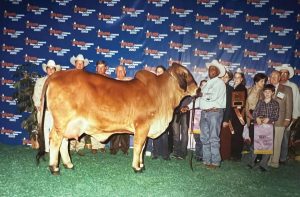 If anyone had doubted Judd's decision to go with a calf for Reserve Grand Champion he was certainly vindicated when +Mr. MK Vernon 349/1, owned and exhibited by the breeder, Dr. Carl K. McKenney, came back to Houston in 2003 and won the Grand Championship title, as well as capturing the National Grand Championship award later that same year. 349/1 impacted the red Brahman cattle in the USA, as his name is found in the pedigrees of such impressive Red Brahmans as +Mr WCC Maximus Rojo 82/4, +TTT Ms Suva's Vernon 335, +Ms MK Loja Doble 5/564, +Miss MK 8/646 and others.
The female show took over eight hours to sort that day and Miss V8 831/5 was crowned the International Grand Champion Gray Female, the International Grand Champion Red Female was VL Elena 110/9. Miss V8 831/5 was bred by V8 Ranch and exhibited by Erin Hyman. She was later sold to the Acevedo family. VL Elena 110/9 was owned and shown by Santa Elena Ranch. The International Reserve Grand Champion Females were JDH Lady Berry Manso 288/6, shown by J.D. Hudgins in the Gray females and +Miss JY 875/0, shown by JY Ranch in the Red females.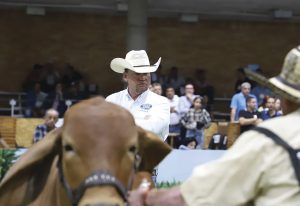 While Judd has grown up in the Brahman world, it wasn't until 1998 that he and his family decided to take the Cullers Division of JDH and create Heritage Cattle Company. Judd, along with his wife Gayla, and three daughters, Megan, Kristen and Erin, have enjoyed countless memories and experiences working together as a family at Heritage Cattle Company.
One would think it might have taken some time to start seeing the new "H" brand in the winner's circle at shows. But Judd and the team at Heritage Cattle Company wasted no time in making their way to the winner's circle at Houston, as they have lead or been involved with numerous champions at the ABBA International Show.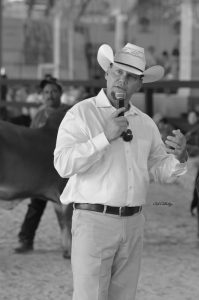 Some of the Grand Champion highlights of his show career in Houston are such great Gray Brahman bulls as the 2015 Grand Champion Gray Bull, +Mr. H Elijah Manso 281/2; the 2021 Grand Champion Gray Bull, Mr. H Pride of Maddox 684; the 2013 Reserve Grand Champion Gray Bull, Mr H Drew Manso 131/1; and the 2022 Reserve Grand Champion Gray Bull, Mr H Statesman Manso 372/0. Of course there is tremendous Gray and Red female power in the Lady H's, as Heritage Cattle Company showed the 2022 Grand Champion Gray Female, Lady H Lisa Manso 476/1; the 2022 Reserve Grand Champion Gray Female, Lady H Stella Manso 351/0; the 2000 Grand Champion Red Female, Lady Heritage 148; the 2003 Grand Champion Red Female, Lady H Charo 302; the 2011 Reserve Grand Champion Red Female Lady Slugger 07/0; the 2018 Reserve Grand Champion Red Female, Lady H Aggie Rojo 902/6; and the 2021 Reserve Grand Champion Red Female, Lady H Venus Rojo 188/8. The Red Brahman bulls that carry the "Mr. H" moniker have also dominated the winner circle at Houston.
Some of the more famous "Mr. H" red bulls you may remember are when we saw Team Heritage take home awards for the 2007 Grand Champion Red Bull, +Mr. H Red Rhino 765; the 2012 Grand Champion Red Bull, Mr H Hampton Rojo 201/1; the 2013 Grand Champion Red Bull, Mr. TO Ferris 10/4; the 2015 Grand Champion Red Bull, Mr H Albertazzi Rojo 315/2; the 2018 Grand Champion Red Bull, Mr. H Bubba Rojo 66/7; and the 2004 Reserve Grand Champion Red Bull, Mr. H Gold Rush 478. "As breeders, judging cattle is not only a privilege, it is our duty. In order for our breed to grow and survive, it's important that we use breeder judges at our largest shows. Leaving our winners and champions in the hands of individuals without knowledge of our global involvement and how our cattle fit in tropical areas is a risky business model," Judd shared. "I know that my reputation is on the line every time I step into the judging arena. I leave my personal feelings outside the ring and simply evaluate the cattle."
Judd and his family are always ready to give back to the Brahman Association and help the international guests that attend the show.
So even though Judd will have a busy two days sorting the Brahman cattle on Thursday and Friday at Houston Livestock Show, he and his family will be hosting the ABBA International Field Day on Wednesday, March 1st at the ranch in Wharton. We look forward to watching Judd sort the cattle in 2023. One can only guess as to what he will be thinking as he steps in the arena to start judging and if he will be thinking back, just a little, to 2002 and when he first stepped into the HLS&R arena as a judge.