Trading cattle with Mexico is no new phenomena, as Mexico ships nearly a million head of steers annually to the United States. When it comes to registered cattle, the U.S. exports live cattle, embryos, and semen to Mexico and countries across the world. Mexico, however, cannot sell embryos and semen to the United States directly, rather they must export live cattle to transfer the genetics.
Brahman breeders have always done a lot of trading with Mexico. In order to diversify their pedigrees and find unique genetic opportunities, Brahman breeders Barry Smith, Rick Butler, Bill Nettles, and Danny Acevedo went south of the border, to Mexico, where they have gone through the process of bringing Brahman cattle back to the United States. In Mexico, they have created lasting friendships with other Cebu breeders like Erik Abrahamsson, Juan Manuel Conde, and others and the experience has proven to be beneficial to breeders in both countries.
Abrahamsson and his family own Deep Creek Ranch in Castroville, Texas as well as ranches in Mexico and Guatemala that operate under the company name MEBA Pavitos, so he has experienced both the import aspect as well as the export aspect of moving cattle across borders.
"The border has been passing cattle for the past 70-80 years. It is not a hard process, you just have to get used to it," said Abrahamsson, a fourth generation Brahman breeder in Mexico. A past president of both the Mexican Association of Cebu Breeders (AMCC) and the Federación Internacional de Criadores de Ganado Cebú (Ficebú), Abrahammson himself has been exporting Brahman cattle to both the U.S. and Guatemala for several years now.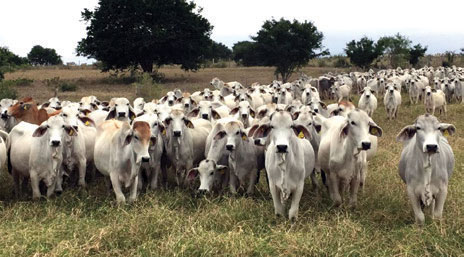 Abrahamsson states, "We started sending cattle to the U.S. about four years ago. We've been successful doing it. We've transferred a few hundred head. Mostly heifers but there's also a market for males…"There's a market for Mexican cattle in the U.S. mostly because of the volumes that are being produced over here and the quality of the cattle also."
Seedstock operators are going to Mexico to find genetics to improve their herds. Barry Smith of Bulls Eye Ranch explained that Mexico is the easiest place to ship an animal from into the United States, and the closest place to find genetics to improve their herds.
Danny Acevedo of Double A Ranch echoed Smith saying, "We are in the seedstock business. The quality of the herd sires is extremely important to us. There's a lot of good ranchers in Mexico. People don't realize what it takes to get a herd sire quality animal. The reason we are buying cattle from Mexico is genetics."
Abrahamsson explained that Brahman cattle from Mexico allow for hybridization with American cattle. Although many of the cattle all go back to the same bloodlines, Mexican Brahmans are far enough removed from traditional American bloodlines to create hybrid vigor.
"Sometimes you'll look at pedigrees and don't see any American names on them, but they're there, 15 years ago, if you do a pedigree. They're there somewhere," Acevedo said.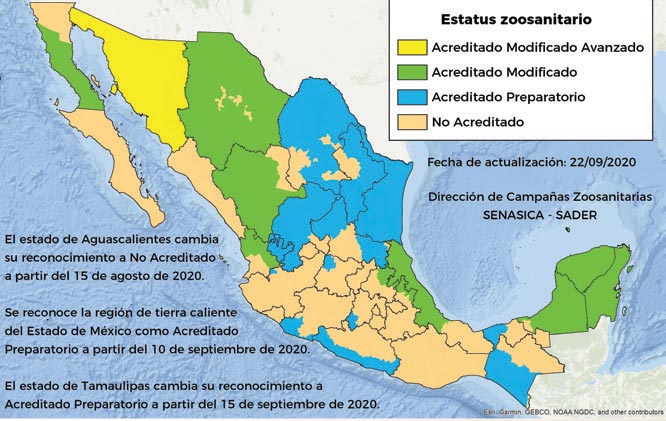 The best way to find the next sire or dam for your herd, is to plan a trip to Mexico. "Go to Mexico; start meeting people. Start getting a relationship going and fi gure out what you need as a buyer," said Acevedo.
Rick Butler, a seasoned importer after bringing across over 100 animals from Mexico, reiterated Acevedo saying, "Th e main thing you've got to do is fi nd someone in Mexico to work with. I was fortunate early on to make friends with some key people in the association [AMCC] down there. Th ey want to help their cattlemen."
If you are going to travel to Mexico to buy cattle, Acevedo encouraged breeders to go into it knowing what genetic traits they are looking for and have an idea what they need to improve their herd.
According to Smith and Acevedo, the best place to begin the search, once in Mexico, is at cattle shows. "Th e easiest way to look for animals is at the show. Not only do you get to see cattle, you get to see the very best cattle in the country," said Smith.
Butler provides a different approach that worked for him by saying, "I would tell you my favorite thing to do is go out in the country and go look at the cattle there. I kind of like to see them in the country; the way they work." Both Butler and Acevedo stressed the importance of making good connections in Mexico.
However, bringing cattle back home Mexico requires some planning. It is important to understand that this is not a quick process. While Abrahamsson has seen the process take as little as 60 to 80 days, Bill Nettles of 4N Ranch in Mississippi has seen it take longer to get animals approved and shipped to the border.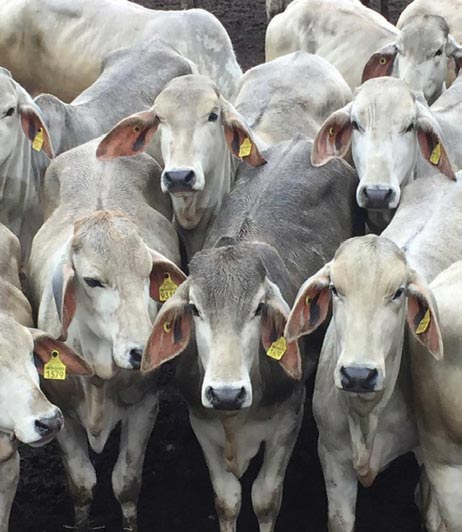 The reason for the variability in time, is the regulations and requirements from both countries to get an animal across the border. "We have sent over a couple hundred head the past few years and it can be a tough process. All the paperwork must be done, and it can take some time," Abrahamsson said.
"Ranchers in Mexico hire a broker to take care of all the paperwork and deal with all of the officials,"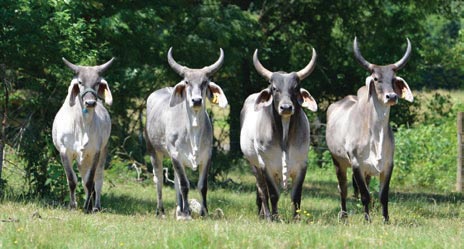 Abrahamsson stated. He also noted that  "Sometimes the broker will also charge a fee for the person buying the cattle to cover the paperwork, feed and vet cost they have at the border."
There are still aspects however that fall on both the buyer and seller even with a broker's help. Th ere are diff erent zones in Mexico that have been pre-approved by the United States Department of Agriculture where most ranchers import their cattle from. Nettles, Acevedo, Smith, Butler and Abrahamsson all stressed the importance of knowing which zone prospective cattle are coming from.
"Mexico has a really good health system on their livestock," said Butler. In Mexico, all cattle are tested annually for brucellosis and bovine tuberculosis (TB).
Cattle from Zone A are free from TB and have been for many years. Most of Mexico falls into Zone A. Zone B are areas that still do have not TB under control, and cattle from these regions cannot be imported into the United States.
Before an animal can leave Mexico, the whole herd must be tested. "One of the fi rst questions you need to ask the guy you're buying from is 'When do you test your whole herd again?'" Smith said.
"So much testing is done on these animals before they can cross the border and the process can take a long time, but the quality of the herd sires we bring in are not something I can buy in the United States so it makes it worth it in the long run," Acevedo said.
Once testing is complete, the animal must undergo a 30-day quarantine prior to being shipped to the border. "We have had cattle travel from all over Mexico, so we have tried to buy cattle with others as a way to lower the cost of transporting the cattle to the border," said Acevedo.
At the border, the animal must be tested again for TB and brucellosis by the USDA before crossing into the United States.
"I received a call when they were at the border,"
Nettles said. "I am always in contact with the brokers so when the cattle are ready to be picked up from the feed lot they go directly in my trailer and we head straight home."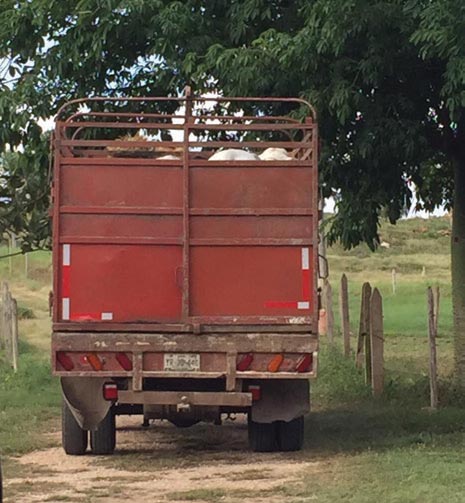 Nettles said he had to have a permit for the cattle since they were picked up from the border, and he could not unload the animals until he got home. "The animals are then quarantined at my house until the USDA comes and inspects the animals, and once they clear the animal, they are free to go wherever with their health certificates," Nettles said.
Transporting cattle has been a learning process for Butler. Protocols have changed over the years and have to be navigated. Butler encouraged anyone considering importing cattle talk to people who have done it. He is always willing to help anyone looking to start the process.
Acevedo said, "Mexico is one of our biggest allies. It's a good tool if you need it." He also mentioned, "It's a rollercoaster, just like anything. Breeding cattle is tough. We got very fortunate that the two herd sires we brought across have done tremendously."
Breeders like Acevedo, Nettles, Smith, Butler, Abrahamsson and others have recently paved the way to importing cattle for genetics from Mexico as they actively seek to inject diff erent genetics into their Brahman herds in the United States.
For those interested in more information about visiting Brahman shows in Mexico visit the website maintained by The Brahman Journal staff at brahmanevent.com.