The top sire of Gray Brahman champions at the 2020 Houston Livestock Show and Rodeo was +MR. V8 458/7 "Noble." He sired 22 winners that were at least first or second in their class as well as numerous division champions and three of the four Gray Grand and Reserve Grand Champions. This remarkable herd sire is co-owned by three partners – Brandon and Rachel Cutrer; J.D. Hudgins, Inc's Locke Division; and SRS Land and Cattle.
Noble was bred in the purple. He was an ET calf out of the 2010 National Champion Female MISS V8 100/7 and sired by the world renowned +JDH MR ELMO MANSO 309/4.
"Right after 100 won National Champion, we teamed up with the Locke family and did a joint flush between her and Elmo," Rachel said. "The Lockes have been great friends. We all are members of the Church of Christ, and we thought it would be fun. Brandon gave me the Elmo semen for the flush as a birthday present."
This mating was a home run that produced three herd sires (including Noble's full brother MR. V8 733/7 "Polled Phenom") and the dam of B.R. Cutrer, Inc.'s MR. V8 788/7 bull.
On a fortuitous day in the spring of 2013, Sam Sparks of SRS Land and Cattle was riding around V8 Ranch with Brandon looking for a bull.
The first one he wanted to show me was 458/7, still nursing on the cow," Sam said. "He was quick to tell me that this was the best bull calf on the ranch at the time. He said the best he could do would be to sell part interest in the bull. It was obvious the bull was going to be a good one, but I was hesitant to make that big of a leap. I purchased another bull and a heifer, and left V8 to make my 5-hour drive to the Valley."
But Sam couldn't stop thinking about that young bull calf. By the time he made it to the King Ranch that day, he made up his mind and called Brandon to see if the opportunity was still available. He said, "Yes sir" and the rest is history.
The Sparks and Locke families actually have a long history together starting with Sam's grandfather and Leon Locke. This friendship was strong and longlasting because of their shared Christian faith and love for the Brahman breed. As Sam was getting established in the cattle business his friend, Danny Acevedo, told him he needed to go to V8 to start his herd off right. When Sam met Jim Williams, Brandon and Rachel for the first time it was their Christian faith and Church of Christ upbringings that were the main topic of conversation, even though Sam was there to see and buy cattle. Thinking through the friendships he had made with these families and the character of each of family, Sparks felt "Noble" was the perfect name for their shared bull.
Noble was a consistent show winner.
"He was Reserve Grand Champion at San Antonio as a baby, his very first show under Brett Barber," Rachel said. "He was a division champion at Houston his second year, and a reserve division champion at the National Show his last year. Brandy Barnes showed him because he and Brandon didn't really jive, and Brandy just had this knack with him."
Noble semen started selling during his last year at HLS&R International Brahman Show and was sold in the USA until 2018.
"A lot of breeders used him, and I think that's the real reason for Noble's success," Rachel said. "He was widely used as a young sire, so we got a good widespread genetic sampling of what he could do, on a variety of cows. The proof was in his progeny. And he's just had tremendous success – red and gray. That's why we feel it's so important to make good genetics widely available and at fair pricing, because that's the only way the breed is going to make genetic progress."
Noble had more calves registered to him than any other gray bull in 2019 and is in 6th place for the most registrations in the Brahman breed lifetime. His calves managed to garner 871 show points in the ring last year, placing him as the number one sire of point producing offspring in 2019 as well. +MR. V8 458/7 was also the top point earning bull in the 2018 Register of Renown inductees with an impressive 554 points or 14.5 points per calf.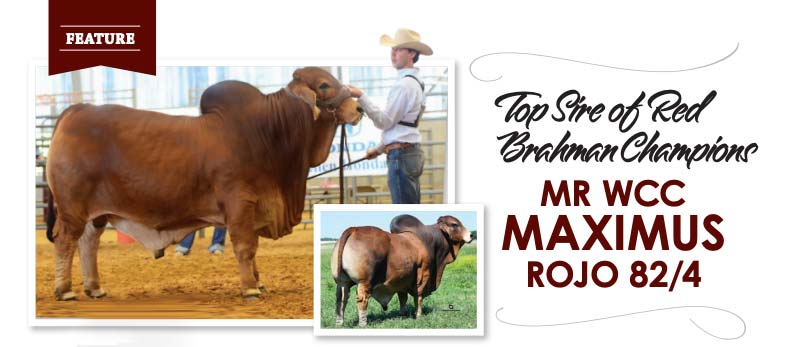 The top sire of Red Brahman champions at the 2020 Houston Livestock Show and Rodeo was MR WCC MAXIMUS ROJO 82/4, who sired a total of 15 winners that were at least first or second in their class as well as 5 division champions.
This exceptional bull is bred and owned by Stuart Watkins of Watkins Cattle Company in Welsh, Louisiana.
In the summer of 2013, Watkins did an IVF flush utilizing the reverse sort option with JDH SAN ANTONIO MANSO 881/5 semen on the donor cow +TTT MS SUVA'S VERNON 335. The mating resulted in six pregnancies – five females and what the Watkins thought was one mistake… "Maximus."
This mating combined top genetics from both the red and gray breeds. JDH SAN ANTONIO MANSO 881/5 is a "red-hided" bull that descends from the +JDH MR ELMO MANSO 309/4 line as well as (+)JDH ATLAS MANSO 328/3. The dam, +TTT MS SUVA'S VERNON 335, is the matriarch of the Watkins breeding program. "Although never shown, this female really was destined for greatness and represents one of my favorite cow families from Tic Tac Toe Ranch," Stuart said. She was also the last female that Max Watts sold to Stuart before he passed away.
"There is so much meaning in a name, especially a name given to a future herd sire," Stuart said. "Because Max Watts was such a mentor to us, we knew we wanted to include Max as part of his name. This bull really is the result of Max and Shirley Watt's legacy and influence on our program."
From the day Maximus was born, Stuart knew there was something extra special about this "oopsie" bull calf.
"I have yet to see a young bull calf with that much natural thickness and total performance," Stuart said. "He and his flushmates really attracted the attention of everyone who visited the ranch."
His flushmates and full siblings have made their mark on the breed as well. +MISS WCC GOSSIP GIRL 55/2 was the 2014 National Champion. MISS WCC BLAIR 77/4 is a donor for B.R. Cutrer, Inc. MISS WCC SOLANGE 81/4 was the 2015 All American Grand Champion Female, and MISS WCC FOXY 155/5 was the 2017 All American Grand Champion.
Stuart said that Maximus had a great show career too with "big wins at the National Show, Kick Off Classic, Fort Worth and San Antonio."
After his first collection at 20 months, Watkins Cattle Company offered semen to everyone at an introductory rate of $50/straw. At that time, he and his sisters were unproven. But that changed quickly, and his first calf crop was remarkable. A heifer calf produced by James and Kim Becker sold in their online sale for $22,000 at 6 months old, and another daughter, MISS WCC GRACE 272/7, went on to win titles at the National Show, All-American and most recently a division win at Houston. He also sired champions for Herzog Cattle and Circle T Cattle Company. Presently, only 20 units of Maximus are being sold per year in the United States.
During his short time as a herd sire, Maximus has been mated successfully with many popular red lines.
"We knew that the Red Brahman world was craving a true outcross," Stuart said. "Maximus is bull that ideally can be mated to most strong red lines because he has no Winchester, X-Ray, HK, 3X, Swaner or Santa Elena breeding on his pedigree. Because of this, we have had endless success when mating him or his full sisters with these direct lines."
Maximus has already sired national show winners on three different continents, and for the year of 2019, he was 4th on the list of top producing red sires in the United States with 15 progeny garnering 146 points!