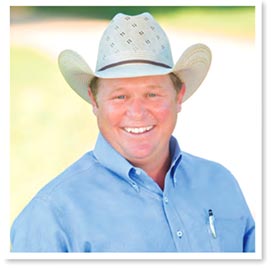 This year Brandon H. Cutrer, owner and co-general manager of B.R. Cutrer, Inc., has the honor of judging the 2022 International Brahman Show at the Houston Livestock Show and Rodeo.
Widely respected as a leading Brahman breeder, Brandon Cutrer is globally recognized for his exceptional Brahman pedigree knowledge, performance standards, and genetic improvements. A lifelong rancher, Brandon brings over 20 years of Brahman breed experience to B.R. Cutrer and, together with his loving wife, Rachel Cutrer, has quickly raised the standards of the Brahman cattle industry.
Before establishing B.R. Cutrer's BRC brand in 2019 to introduce the advanced genetics, breeding, and beef programs for which BRC is now known, Brandon was the Assistant Manager of his grandfather-in-law's ranch for 10 years. Prior to that he served as a herdsman at both Smith Brahmans and Mississippi State University.
Brandon holds a B.S. in Agricultural Economics from Mississippi State University and has served on numerous associations, including as director of the Texas Beef Council, Executive Board Member of the American Brahman Breeders Association and as President of the Mississippi Brahman Association. Brandon's extensive knowledge of Brahman cattle has also earned him global recognition. He is the celebrated breeder of the five Grand Champion Females at Houston (2016, 2017, 2019, 2020 and 2021) and the breeder of bulls like Noble, Dutton, Captain, and more. Brandon has also judged cattle shows across the United States, as well as in Mexico, Nicaragua, Honduras, and Colombia.
Brandon enjoys nothing more than continuously optimizing B.R. Cutrer Ranch operations to leave a legacy for his two daughters and ensure generational excellence for B.R. Cutrer clientele.
Going into HLSR this year, Brandon looks forward to judging the Houston show, and to seeing all his international friends who are traveling to the show.
---
Este año, Brandon H. Cutrer, propietario y co-director general de B.R. Cutrer, Inc., tiene el honor de ser juez del Show Internacional del Brahman 2022 en Houston Livestock Show and Rodeo.
Ampliamente respetado como un ganadero líder de Brahman, Brandon Cutrer es reconocido mundialmente por su excepcional conocimiento del pedigrí Brahman, sus estándares de rendimiento y mejoras genéticas. Un ganadero de toda la vida, Brandon aporta más de 20 años de experiencia en la raza a B.R. Cutrer y, junto con su amada esposa, Rachel Cutrer, han elevado rápidamente los estándares de la industria ganadera Brahman.
Antes de establecer la marca BRC de B.R. Cutrer en 2019 para introducir los programas avanzados de genética, crianza y carne por los que ahora se conoce a BRC, Brandon fue el subdirector del rancho de su abuelo político durante 10 años. Antes de eso, se desempeñó como asistente de campo tanto en Smith Brahmans como en la Universidad Estatal de Mississippi.
Brandon tiene una Licenciatura en Ciencias de la Economía Agrícola de la Universidad Estatal de Mississippi y se ha desempeñado en numerosas asociaciones, incluso como director del Texas Beef Council, miembro de la Junta Ejecutiva de la American Brahman Breeders Association y como presidente de la Mississippi Brahman Association. El amplio conocimiento de Brandon sobre el ganado Brahman también le ha valido el reconocimiento mundial. Es el célebre criador de las cinco hembras que fueron Gran Campeonas en Houston (2016, 2017, 2019, 2020 y 2021) y el criador de toros como Noble, Dutton, Captain y más. Brandon también ha sido juez de ferias de ganado en los Estados Unidos, así como en México, Nicaragua, Honduras y Colombia.
Brandon disfruta de nada más que optimizar continuamente las operaciones de B.R. Cutrer Ranch para dejar un legado a sus dos hijas y asegurar la excelencia generacional para la clientela B.R. Cutrer.
Al ir a HLSR este año, Brandon espera con ansias juzgar el Show y ver a todos sus amigos internacionales que estarán asistiendo al evento.