On December 22, 2020, rodeo and ranching legend Roger "Sloan" Williams passed away in Wharton, Texas. He was 88 years old.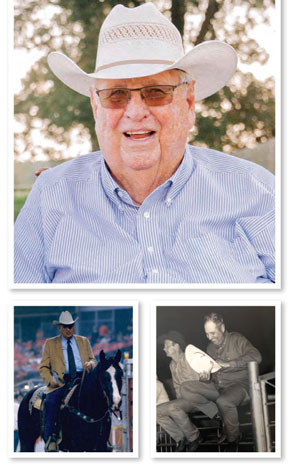 Sloan Williams was born on August 28, 1932 in Navasota, Texas to Knox T. Williams, Jr. and Catherine Sloan Williams. Sloan, his older brother Knox Williams III (deceased, 2005) and the Williams family resided in Millican, Texas, where Sloan's father and grandfather were pioneering ranchers and landowners. A graduate of Navasota High School, Sloan was the District FFA President, Vice-President of his Senior Class, and a football and basketball player, but he was most proud of how he would sneak out of school to work on the family's ranch. Sloan started his own commercial cattle operation the year he graduated, in 1950.
On July 15, 1954, Sloan married Mollie Jo Forgason of the J.D. Hudgins Brahman Ranch. The couple lived briefly in Houston while Sloan worked at Port City Stockyards. One year later, they settled permanently in Hungerford, Texas. Sloan worked on the J.D. Hudgins Ranch for several years before starting his own business, the Sloan Williams Rodeo Company.
In the 1960s and '70s, Sloan was known as a top dealer of rank bucking stock – at one time, he owned over 300 bucking bulls. His most famous bull, V-61, was unridden for four years and inducted into the Bull Riding Hall of Fame. Sloan won the I.R.A Saddle Bronc of the Year award for four consecutive years (1967 to 1970) and the 1967 Bareback Horse of the Year award.
Sloan loved nothing more than attending rodeos and cattle shows so he could have good visits with his many friends. He'd usually greet them with a wide grin and the opening line: "You got any money?" He was beloved for his corny jokes and many colorful expressions like: "Shoot low; they may be riding Shetlands!".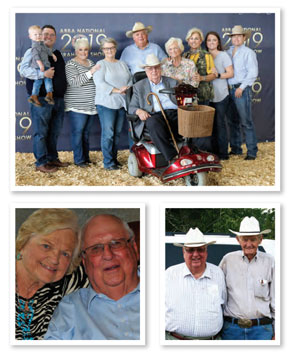 Known for 'doing deals', Sloan couldn't resist buying a herd of cattle or a piece of land. It was 1971 when he sold his rodeo company and purchased V8 Ranch, a registered Brahman operation established in 1944. Working with his family, he established V8 Ranch as one of the top Brahman herds in the world and was an active rancher until the last year of his life.
In addition to serving as President of the American Brahman Breeders Association, Sloan also served as an internationally renowned cattle judge. After judging the International Brahman Show in 1994, The Brahman Journal wrote: "The audience got everything they could have asked for and more this year when Sloan Williams stepped into the Houston arena. He is the most respected judge the Brahman breed has ever produced across all breed barriers. Sloan is a cattleman that knows very few peers." He was exceedingly proud to have judged some of the most prestigious cattle shows in the world including Australia, Costa Rica, El Salvador, Guatemala, Honduras, Mexico, South Africa, Thailand and The Philippines; he made friends wherever he went.
Sloan and Mollie were humbled by the honors they received from their peers. He was inducted into both the American Brahman Breeders Association Hall of Fame and the Texas Rodeo Cowboy Hall of Fame. The 2000 International Brahman Show was dedicated to him, and the 2019 National Brahman Show was dedicated to both Sloan and Mollie. Just as important to Sloan was the honor of serving as Deacon at Abell Street Church of Christ, where he was an active member for decades.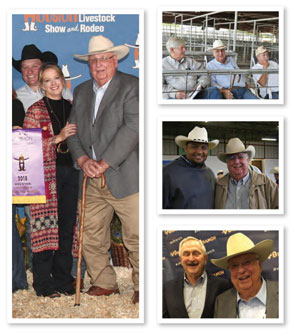 Sloan is survived by his wife of 66 years, Mollie, their children, Jim Williams (Luann) and Jan Williams Powell, and his grandchildren and great-grandchildren. He loved watching his three grandchildren: Rachel Williams Cutrer (Brandon); Catherine Sloan Williams Neumayr (Luke), and Payton Sloan Powell Jessee (Joe Dodge) compete in cattle shows and rodeos just as much as he enjoyed watching them get married and start their own professional lives and families. The great grandkids: Mollie Jo Cutrer, Ann Catherine Cutrer, and Knox Neumayr, will miss sharing bowls of Blue Bell ice cream with their Daddaw. As Sloan enters the gates to the Big Ranch in the Sky, we can all see him turning around to sign off with his signature goodbye: "Check's in the mail!".
A memorial service remembering the life of Roger Sloan Williams will be held at a later date due to COVID-19. In lieu of flowers, the family has named Bandina Christian Youth Camp as the memorial of choice: www.bandinachristianyouthcamp.com