On January 7, 2021, Hall of Fame Brahman breeder Michael "Mike" Stephen Partin passed away at the age of 77 in Athens, Texas.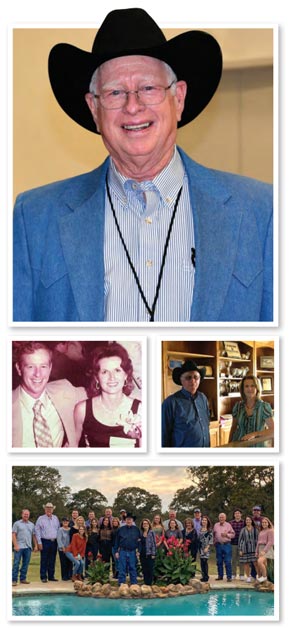 Mike Partin was born on May 25, 1943 in Orlando, Florida. He was a fourth-generation cattle rancher. His father Edward ''Geech'' Partin and mother Connie raised him on the family's Heart Bar Ranch in Kissimmee, Florida. He had four siblings – Ed, Judy, Kathy and Roy. The children started working cattle on horseback at the age of four.
Mike's grandfather was the legendary Brahman breeder Henry O. Partin, who is known for bringing Brahmans to Florida in the 1930s and raising the breed-changing bull "Emperor." The Partin herd started with Manso bloodlines from the J.D. Hudgins ranch along with Imperator bloodlines from the Marceaux breeders.
In tenth grade, Mike met the love of his life and future wife, Janet. The two started "going steady," and married in 1960. After the nuptials, Mike continued working on the ranch, and Miss Janet began keeping books for the family business, Henry O. Partin and Sons, Inc., in 1961.
Henry passed away in 1971. Of course, Janet and Mike remained integral members of the family ranch. In 1986, the overarching company was divided into four parts.
Janet and Mike continued ranching and growing their family. They raised their daughter Marcie and two sons, Steve and Carlton on the ranch.
Over the years, Mike kept with the same bloodlines his father and grandfather used. He focused on lines of productive females that were easy-fleshing. Mike said he breeds for "cattle that don't take a lot of money to get bred back. The kind of cattle that will survive during the hard times… cattle that work on pasture."
In addition to cattle that work in the field, Mike had a keen eye for conformation. He won the Premier Show Bull of the Year title with three Gray Brahman herd sires. In 2004, +MSP Doc Holiday Jr. 766 won the esteemed award, and in 2007, his son MSP Special Reload 945 followed in his sire's hoof-prints. NMSU Garrett Manso 7057, a bull Mike purchased from New Mexico State University, took home the honor in 2010 as well.
In 2006, the couple and their herd moved to Montalba, Texas, where they own Partin and Partin Heart Bar Ranch. Carlton helps with the day-to-day running of the ranch. Their daughter Marcie, along with her husband Dr. Todd Laughrey, who is a veterinarian, assist with the herd health program.
Mike's cattle have influenced herds across the United States and the world. He has sold cattle to Australia, Costa Rica, Colombia, Ecuador, Guatemala, Mexico, Panama, the Philippines and Venezuela.
Throughout his life, Mike labored to promote the Brahman breed and cattle industry around the world.
Mike was a member of the ABBA Board of Directors for more than 35 years, and worked through the association ranks, serving as president from 1995 to 1997. During his tenure as president, Mike played an essential part in the organization of a shipment of more than 1,000 head of Brahmans to the Philippines.
Over the years, he judged prestigious cattle shows both domestically and abroad, including the 1996 World Brahman Congress in Maracaibo, Venezuela. He was also inducted into the Brahman Hall of Fame in 2017.
In addition to his volunteering with the ABBA, Mike served as: President and Treasurer of the Florida Brahman Association; State director of Osceola Cattlemen's Association, Director of FIATC, Director of the Florida Cattlemen's Association and Big Boss of The Silver Spurs Rodeo in 1973 and 1974. Mike was also a lifetime member of the American Quarter Horse Association. He bred and raised racehorses for many years – a love he shared with his father.
Mike was a loving husband, father and grandfather. He had a deep faith and spiritual relationship with God. The Brahman cattle he was so fortunate to raise and care for made his life complete with his family by his side. He had a pilot's license and real estate license, but they both paled in comparison to the love of his Brahman cattle.
Mike Partin spent his life, like his father and grandfather before him, working to better the Brahman breed. He leaves behind a legacy of terrific cattle and a family who loved him dearly. He will be greatly missed by many throughout the Brahman world.
He is preceded in death by his parents; son, Michael Stephen Partin, Jr. and infant twins.
Survivors include wife, Janet Partin of Montalba; children, Marcie Partin Laughrey and husband Todd of Athens, Stephen C. Partin and wife Alison of Stuart, Florida, Carlton L. Partin and wife Carrie of Montalba; siblings, Ed Partin and wife Sharon of St. Cloud, Florida, Judy Wallace and husband Jack of St. Cloud, Florida, Roy Partin and wife Diane of Paris, Kathy Baker and husband Alan of Kissimmee, Florida; grandchildren, Kaitlyn Laughrey and husband Jay Reichardt, Clay P. Laughrey, Colt Laughrey, Seth Partin, Sybil Partin, Riley Partin, Ella Partin, Haley Partin and Sadie Partin, and many nieces and nephews dear to his heart.