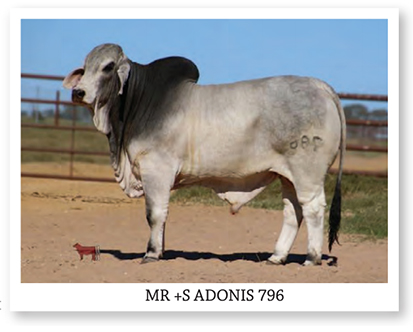 The ABBA Bull Development and Marketing Program was designed to provide Brahman breeders with the opportunity to develop bulls, collect economically relevant data and market commercially oriented bulls in a cooperative effort. This is the 6th year that the ABBA has hosted this program.
The Overall High Indexing Bull award went to MR +S ADONIS 796. "Adonis" was bred and entered in the test by Addison Reece Schneider of Schneider Brahmans. MR. +S ADONIS 796, sired by JDH MR MANSO 317/3, a grandson of +JDH CHARLEY'S JAZZ 946/1 and out of MS +S AMBER 732 TWIN, a daughter of JDH WICHITA MANSO 907/6, was ranked #1 in Phenotype and #2 in Adjusted REA.
The Top Gaining Bull (Average Daily Gain) award went to a polled bull named JMH MR MOHAWK MANSO 71 (P). "Mohawk" was bred and entered into the test by Justin Hall of JH Polled Brahmans. JMH MR MOHAWK MANSO 71 (P) is sired by JDH MR MOHAWK MANSO 113/5 and out of MISS 76/3 (P). Justin also had another entry, JMH MR MOHAWK MANSO 67 (S), in the program that he later offered in the sale that occurs after the test. JMH MR MOHAWK MANSO 67 (S), also sired by JDH MR MOHAWK MANSO 113/5, was ranked 5th in overall Phenotype, 3rd in Average Daily Gain and 7th in Marbling.
The Top Scanning Bull award went to an entry of Steve Wilkins of Flying W. Steve is well known for his dedication to performance, as he was the first Brahman breeder to be awarded the prestigious ABBA Performance Breeder of the Year Award. This year his bull SRW MR. FLYING W 411/9, sired by SRW MR. FLYING W 776/10 and out of SRW MISS FLYING W 254, won the top scanning award.
The ABBA Performance Tested Bull Sale, which takes place annually after the ABBA Performance Bull Test is completed, was hosted on cattleinmotion.com on December 9-10, 2020. Twenty-two bulls sold for an average of $4468.75 to buyers from Texas, California, New Mexico, Florida, Mississippi and Arkansas.
The top five selling bulls were:
• LMC ECC POLLED AMIGO 1/9 (P) bred by LA MUNECA CATTLE CO
• VL ROJO DESIGNER 21/9 bred by SANTA ELENA RANCH INC
• LMC POLLED AMIGO 65/9 (S) bred by LA MUNECA CATTLE CO
• LMC POLLED TRES 38/9 (P) bred by LA MUNECA CATTLE CO
• SRW MR. FLYING W 409/9 bred by STEVE WILKINS
The ABBA plans on hosting the program again in 2021 and it will be for bulls born January-April 2020. The bulls will be delivered to Texana Feeders Ltd. between March 30-April 4, 2021.
Some of the program specifics and the required vaccinations to participate in the program are:
Consignors or Nominees must be ABBA members.
Bulls must be registered in the American Brahman Breeders Association.
Bulls should be weaned at least 45 days, recommended dehorned, received two rounds of injections and dewormed prior to delivery at Texana Feeders Ltd.
Bulls will be tested for BVD-PI and ONLY NEGATIVE bulls will be allowed into the test.
Required at or before weaning:
IBR, BVD, BRSV, PI3 – Modified Live, Pasturella pneumonia, Clostridial Blackleg and Deworm.
Required 2 – 4 weeks after first injections:
IBR, BVD, BRSV, PI3 – Modified Live; Clostridial Blackleg.
For more information on the ABBA Bull Development Program, please visit brahman.org or call the ABBA office at 979-485-5528.