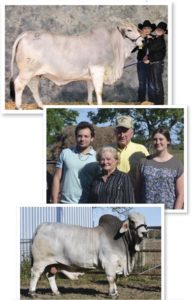 Receiving the "Vanguard" designation in the ABBA is the most prestigious accomplishment a Brahman female can achieve. Vanguard status is indicated by the $ symbol preceding a female's name in the ABBA registry.
A Vanguard female is a cow that has earned both Maternal Merit and Register of Renown status. A cow reaches Register of Renown status when two or more of her progeny garner a minimum of 75 points in the showring. To achieve the ABBA's Maternal Merit award, females must have an early onset of puberty, a regular calving interval, and consistently produce offspring that perform above average.
Until this year, only 15 females in the history of the American Brahman breed had obtained Vanguard status. With $D BAR MISS 766/1 as the most recent addition to this esteemed list, there are now 16 total Vanguard females in the ABBA registry.
$D BAR MISS 766/1 is a product of the D Bar Ranch breeding program, which is owned and operated by Sam and Nan Duplantis of Erath, Louisiana. 766/1 is currently co-owned by Sam Duplantis and his grandchildren, Brennan M. Felix and Sarah Elizabeth Felix.
D Bar Ranch and the Duplantis family are no strangers to owning and breeding Vanguard animals, as Duplantis bred and owns one of the 25 Vanguard bulls in the Brahman breed, (+)SCD DIDOR ESTO 302/1.
Besides (+)SCD DIDOR ESTO 302/1 achieving Vanguard status, he was also awarded the prestigious ABBA Premier Gray Show Bull of the Year title in 2008. 302/1 is also the sire of the ABBA Maternal Performance Sire and 2011 ABBA Premier Gray Show Bull of the Year (=)SCD DIDOR ESTO 623/1. Therefore, it is really no surprise that $D BAR MISS 766/1 is sired by (+)SCD DIDOR ESTO 302/1 as well.
While $D BAR MISS 766/1 is Duplantis' newest Vanguard female, he also owns another Vanguard cow, $OLP MS COUNTRY SUE 239, which was bred by Mrs. Oscar Lee Partin of Florida. COUNTRY SUE 239 has done a tremendous job for Duplantis, producing his Vanguard bull and the sire of 766/1, (+)SCD DIDOR ESTO 302/1.
$OLP MS COUNTRY SUE 239's also produced another famous bull, LL Mr. Doc Holiday 539/8. Many will remember "Doc Holiday" as he was shown to the 2000 National Championship by Joe Butt for owners Mike and Janet Partin of Partin & Partin Heart Bar Ranch and Marcus Shackelford of Rocking S Ranch.
Duplantis knew early on that $D BAR MISS 766/1 was going to be special. "There are some animals that you just know when you are looking at them just a few weeks after they are born, they should be really good ones," recalls Duplantis. "She was one of those, and she sure lived up to that and even surpassed my expectations."
$D BAR MISS 766/1 has been a consistent producer for D Bar Ranch with over 46 progeny to her name and more on the way. She has crossed well on a variety of bulls and her offspring are extremely consistent.
"I knew back in July of 2019 that 766/1 had accomplished all the prerequisites to achieve Vanguard status," explained Duplantis. "Since we sell embryos out of 766/1, this award is very important to us, both as breeders and as a marketing tool going forward."
So the next time you have a chance to visit with the Duplantis family, make sure to congratulate them on their latest Vanguard award! It is a high honor to achieve, and they have done an excellent job in their breeding program.