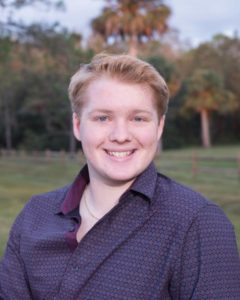 I hope everyone has had a great start to their year and is ready for summer to start! My name is Ryan Beany, and I am 17 years old. I'm a a senior at Lincoln Park Academy and currently dual-enrolled at Indian River State College in Fort Pierce, Florida. I have been able to call the Brahman Breed "home" for about nine years now, and trust me, there's no place like home!
Being able to be a member of the American Junior Brahman Association and Florida Junior Brahman Association has truly changed my life. My first year at the All American was definitely not the start I was hoping for. I brought my first Red Brahman bull to show and was ready to compete in every competition possible. When it came time for weights and measures, he unfortunately hipped out causing me to not be able to show. But I didn't let that stop me from enjoying all the other events that year. Being able to watch the show and make new friends that first year helped to shape my Brahman experience and push me to do better in all that I do. Since then, I have been able to make friends to last a lifetime, memories to cherish forever, a family I had no idea was possible, and a story spanning the Southeastern United States.
Last year, I was elected as one of Florida's State Directors, and I thoroughly enjoyed being able to help my fellow exhibitors with their animals, assist in running the show and inspire others to do the best they can. The agriculture and cattle industry have both influenced my life in unimaginable ways. After graduating in the Spring with my A.A. and High School Diploma, I will transfer into the University of Florida's College of Agriculture and Life Sciences to pursue a major in Animal Science with an emphasis in Food Animal and a minor in Agriculture and Natural Resource Law. Following my Bachelor's Degree, I will go into law school in order to specialize in Land and Water Rights Law in order to defend farmers' and ranchers' livelihoods. It is my life's purpose to better fight for our cattle and agriculture industries while also educating the leaders of tomorrow of the importance of such. I frequently volunteer in classrooms across Florida teaching students of all ages about how important the cattle industry is and that a Brahman is not a camel. As a graduating senior, I would just like to take a moment to thank all of my friends, family, leaders and advisors for their help and guidance these past 17 years. I wouldn't know where I would be without you! I hope everyone's Summer goes off without a hitch and I can't wait to see everyone at this year's All American in Perry, Georgia!
---
Hi y'all!
I am Alyson Fontenot, a 17 year old from Ville Platte, La. I am a senior at Sacred Heart High School where I am very involved in Student Council, FBLA, and 4-H. After I graduate in May, I will be attending Texas A&M University to obtain my degree in Animal Science. Being a fourth generation Brahman Breeder, I have been around this wonderful breed my entire life. This association has granted me so many opportunities to better myself and gain new experiences. This year I am a director for the American Junior Brahman Association, as well as, the President of the Louisiana Junior Brahman Association. Being able to represent these wonderful organizations is something that I truly enjoy. As a junior member, I have participated in just about every contest that is available to me. They have taught me leadership, social skills, and the true value of hard work. This industry has also allowed me to discover a career path for myself that I will truly love. I will continue to be involved in the Brahman breed and the agricultural industry. I have made countless friends and connections through the Brahman breed, and I can honestly say that it has made me into the young woman that I am today. I hope to one day be able to give back to the association that has given me so much. I strongly encourage everyone to get involved; you will not regret it! The AJBA offers so many opportunities to gain leadership skills and to make new friends! Thank you to everyone who has made my junior show career so memorable! I hope to see everyone at the All American in Perry, Georgia!