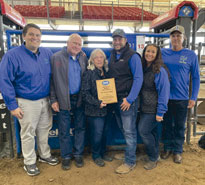 The 61st Annual National Brahman Show in Rosenberg, Texas was dedicated to Carolyn Kass Falgout of K-Bar Farms in Amite, Louisiana and Tylertown, Mississippi.
Carolyn began the K-Bar Farms' Brahman herd in 1993 with the purchase of cattle from Wayne Foster and Jack Keel and then in 1994 they purchased a herd sire from Clyde Goudeau. Since then, the Falgout family has continued to grow K-Bar Farms into one of the most respected operations in the country.
K-Bar Farms has seen much success in the showring. They have shown multiple International and National Champions, as well as seen their genetics win across the globe.
Carolyn showed KF Ms. Siete Didor 17/7 to Gray Show Cow of the Year in 2000. en she came back with a bull that she raised, +KF Progeny's Success 40/0, to win Gray Show Bull of the Year in both 2002 and 2003. She then made ABBA history when she bred and raised KF Mr. Passport Success 2/8 "Dozer," a son of 40/0, who won the 2010 Red Show Bull of the Year. This was the first father and son duo to ever win the Premiere Show Bull of the Year title two years in a row respectively. With a total of six Premier Show Animals, K-Bar Farms is the owner/exhibitor of more ABBA Premiere Show Animals of the year than any other breeder.
In addition to her many previous accomplishments breeding champions, it appears that Carolyn is the first person to have the National Show dedicated to them and win a National Grand Championship title as an exhibitor in the same year. Her 2021 International Champion Red Brahman Female, KF MS RITA ROJO 134, won Senior Champion and Grand Champion at this year's National Show, confirming her the nickname "Repeat Rita."
Carolyn and Rita had the honor of receiving the beautifully crafted Marsha Swaner Memorial trophy, which is presented annually to the National Champion Red Brahman Female.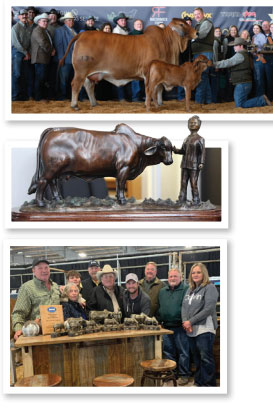 "We are blessed to have exhibited the National Champion Red Brahman Female for, and with, our Louisiana family at K-Bar Farms," Val Walters of Walters Livestock said. "This show culminates a spectacular show career for this great cow who, among numerous championships, is also the 2021 International Champion Red Brahman female and the 2020-2021 ABBA Premier Red Show Cow of the Year."
Carolyn has not only made an impact on the Brahman breed domestically, but has traveled the world promoting Brahman cattle. She has visited many destinations abroad as both an ambassador and judge. Making history within the ABBA on more than one occasion, she was even the first woman to judge a cattle show in Thailand.
"Some of my best friends live in other countries," Carolyn said. "We might not get to see each other as often as we would like, but we are really close friends through our love for Brahman cattle."
She has made good friends all over the world and considers her international friends an extension of her family.
Over the years, Carolyn has served on multiple committees and as a director and executive committee member for both the American Brahman Breeders Association and Louisiana Brahman Association. Now there is a new goal on the horizon, as KF MS RITA ROJO 134 is a 2021 "Brahman – Miss World" Qualifier. We are sure both Rita and Carolyn will have many fans rooting them on for this next accomplishment.