The Deep South Brahman Association held its Annual Brahman & F-1 Sale at Meridian Livestock, Inc. in Meridian, Mississippi on May 30, 2020.
After being postponed from its original mid-April date, the sale was well attended both in person and online.
According to the sale manager Chris Shivers, of Infinity Cattle Services, "We were very pleased with the sale and it was comprised of the largest offering to date. The lots received praise from all that attended due to the quality and disposition of the cattle."
The Deep South Brahman & F-1 Sale fulfilled part of the organization's mission by providing forty-six members from Alabama, Florida, Georgia, Louisiana, Mississippi, Oklahoma, Tennessee & Texas an opportunity to market elite cattle. The offering consisting of Registered Brahmans, F-1 Females, F-1 Bulls, F-1 Plus Females and complimentary breeds to create F-1 females.
Auctioneer Keith Brightwell of Henderson, Texas swiftly sold the offering to 305 bidders with 68 buyers from 10 states and Australia taking advantage of the opportunity. Due to the quality offering and pandemic restrictions over $100,000 of cattle were sold online via Cattle In Motion.
A few of the sale highlights were:
Volume Buyer: CF Cattle of Canton, Texas.
High Selling Lot: Lot 57 – JDH Lady Kendall Manso consigned by Triton Farms and purchased by Wedgeworth Cattle Company & NCC Brahmans for $7,900.
High Selling Pair: Lot 51 – Moreno Ms. Lady Rhode consigned by Moreno Ranches and purchased by RS Cattle for $5,750.
High Selling Open Heifer: Lot 37 – SHC Natia 521/9 consigned by Kyle Smith and purchased by NCC Brahmans for $5,750.
High Selling Bull: Lot 3 – Mr. Dubina Rose 255/8 consigned by Dubina Rose Ranch and purchased by Beeker Catfish & Cattle for $5,250.
High Selling Pen of F-1's: A pen of three ABBA Golden Certified BXA F-1 Pairs with 90-150 day old Angus sired calves consigned by Triple Son Farms and purchased by Sid Nelson sold for $2,750/head.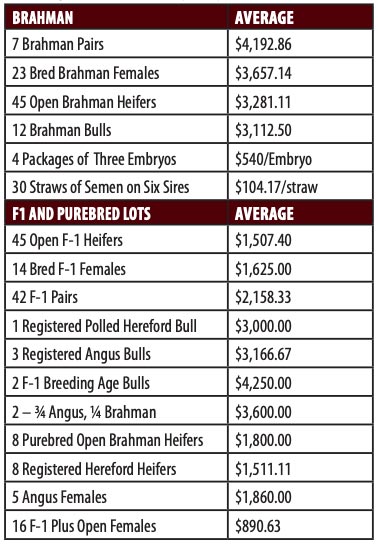 CONGRATULATIONS
Champion Pairs – Triple Son Farms
Blue Ribbon Pen – K-Bar Farms Champion
Open F-1's – 4N Ranch
Blue Ribbon Pen – Triple Son Farms
The sale was managed by Chris Shivers owner of Infinity Cattle Services based in Houston, Texas.
The Deep South Brahman Association is comprised of members primarily in Alabama, Mississippi, and Tennessee and serves these members with educational and marketing opportunities. The 2021 Deep South Brahman Association Brahman & F-1 Sale will take place on April 17, 2021.