HISTORIC EXPORTATION TO COLOMBIA
For the first time in 14 years, Brahman cattle have been exported from the United States to Colombia.
Animal Logistic Services LLC, owned by Hernando Riano and his Panamanian business partner Santiago Alvarez, coordinated the quarantine and transportation of 18 head of cattle, which included ten Brahmans (breeding-age, virgin bulls and young heifers) from Texas to Colombia.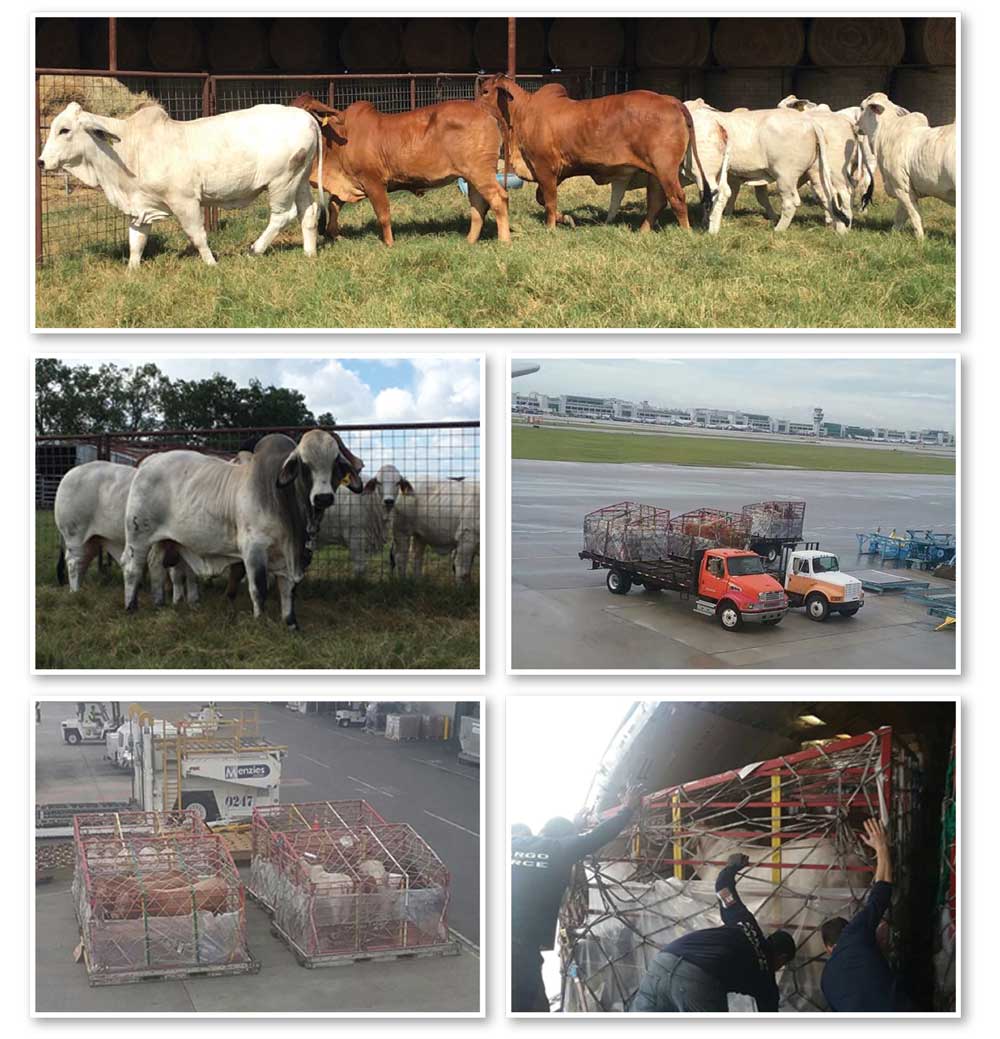 The Red Brahmans included in the shipment were from Detering Red Brahmans in Hempstead, Texas, and the Gray Brahmans were from J.D. Hudgins, Inc. in Hungerford, Texas.
Animal Logistic Services had been working on arranging the historic exportation and getting the new protocols from Colombia since last November. The exportation is significant as it contained the first Brahmans from the US to cross into Colombia since the country closed its borders to live American cattle in 2003 due to BSE concerns.
"After many years of having Colombian Brahman breeders visit our ranch and use our genetics through embryo and semen sales, it was rewarding and an honor to finally, once again, have live cattle sent to Colombia," said Will Detering of Detering Red Brahmans.
Dr. David Husfeld and Dr. Adriana Serrano of Quality Genetics, LLC in Washington, Texas processed the health tests and certificates for the animals being shipped. In addition to the standard testing required by most protocols in South American countries, the Colombian government required testing for Q fever, which is caused by the bacteria Coxiella burnetii.
Quality Genetics is a team of veterinarians who specialize in testing live animals for export, in addition to all aspects of semen and embryo exports and sales.
"For me personally, as a Colombian, it's been frustrating and a challenge," said Dr. Serrano in regards to not being able to ship cattle to Colombia for the last decade. During the interview, Dr. Serrano remarked that she is happy about the opening borders and expected more exportations to Colombia in the future, but noted that it will probably be a "slow process" as the infrastructure in Colombia is not presently available to receive large numbers of cattle.
Animal Logistic Services and Quality Genetics worked with Los Pinos Cattle Company in Hempstead, Texas to quarantine the animals for the mandatory 40-day period. This facility had to be approved and certified by both the USDA and the Colombian government.
Following quarantine, the animals were trucked to Miami, Florida. Then they flew to Bogota, Colombia, which is the only government-approved port in the country to receive foreign cattle.
"Colombia authorized importation by plane only," Riano said. "The government did not approve vessels. Most countries authorize ocean and air, but not Colombia."
The cattle included in this exportation were purchased by Hacienda el Brillante located in Caucasia, Antioquia; Agropecuaria San Alfonso located in San Martin, Meta; JPS Ganaderia/Juan P Sierra Quiroz, located in Magdalena Medio; and Ganaderia Tequendama, located in Acacias, Meta.
---
Por primera vez en 14 años, ganado Brahman ha sido exportado fuera de los Estados Unidos a Colombia.
Animal Logistic Services LLC, propiedad de Hernando Riano y su socio en Panamá, Santiago Alvarez, coordinó la cuarentena y el transporte de 18 cabezas de ganado, que incluye diez brah-man (toros para cria, novillas vírgenes y toretes jóvenes) de Texas a Colombia.
Los Brahman Rojos provenian de Detering Red Brahmans en Hempstead, Texas, y los Brahman Grises de J. D. Hudgins, Inc. en Hungerford, Texas.
Animal Logistic Services había estado trabajando en la organización de la exportación histórica y conseguir los nuevos protocolos de Colombia desde noviembre pasado. La exportación es signifi-cativa ya que contenía los primeros brahman de los EE.UU hacia Colombia desde que el país cerró sus fronteras para el ganado vivo estadounidense en 2003 debido a la preocupación por la EEB. (encefalopatía espongiforme bovina).
"Después de muchos años de tener a los criadores de Brahman colombianos visitando nuestro rancho y usando nuestra genética a través de embriones y semen, fue gratificante y un honor, fi-nalmente y por una vez más, haber enviado ganado vivo a Colombia," dijo Will Detering de De-tering Red Brahmans.
El Dr. David Husfeld y la Dra. Adriana Serrano de Quality Genetics, LLC en Washington, Texas procesaron las pruebas de salud y certificados para los animales que se enviaron. Además de las pruebas estándar requeridas por la mayoría de los protocolos en los países de América del Sur, el gobierno de Colombia exige realizar una prueba para la fiebre Q, la cual es causada por la bacteria Coxiella burnetii.
Quality Genetics, con su equipo de veterinarios se especializa en probar animales vivos para ex-portacion, ademas de todo lo relacionado con las ventas y exportacion de semen y embriones.
"Para mí, personalmente, como colombiana, ha sido frustrante y un desafío", dijo la Dra. Serrano, en lo que respecta a no poder enviar ganado a Colombia durante la última década. Durante la en-trevista, la Dra. Serrano comentó que está feliz con la apertura de la frontera y espera que haya más exportaciones a Colombia en el futuro, pero señaló que es probable que sea un "proceso len-to", ya que la infraestructura en Colombia no se encuentra actualmente disponible para recibir grandes cantidades de ganado.
Animal Logistic Services y Quality Genetics trabajaron con Los Pinos Cattle Company en Hemp-stead, Texas, para poner en cuarentena a los animales durante el período de 40 días obligatorios. Esta instalación tuvo que ser aprobada y certificada tanto por el USDA como por el gobierno de Colombia.
Después de la cuarentena, los animales fueron transportados en camión a Miami, Florida. Luego volaron a Bogotá, Colombia, que es el único puerto aprobado por el gobierno en el país para reci-bir ganado extranjero.
"Colombia autoriza la importación en avión solamente," dijo Riano. "El gobierno no aprobó los buques. La mayoría de los países autorizan al mar y aire, pero no Colombia."
El ganado incluido en esta exportación fueron adquiridos por Hacienda El Brillante situado en Caucasia, Antioquia; Agropecuaria San Alfonso ubicada en San Martín, Meta; JPS Ganadería / Juan P Sierra Quiroz, que se encuentra en el Magdalena Medio; y Ganadería Tequendama, situ-ada en Acacias, Meta.