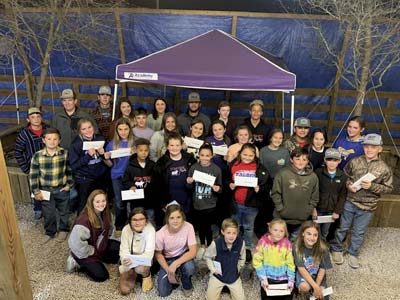 This fall was a devastating time for the Louisiana Gulf Coast region. Hurricane Laura hit the area with tremendous force and many people lost their homes, livelihoods, barns, pens and animals. In the wake of this catastrophic devastation, the Brahman breed stepped up big time to help juniors in the affected area.
Bridget and Joshua Duhon alongside Lanna and Joe Hensgens came up with an idea for a charity auction to benefit the Louisiana juniors affected by the storm.
"Back in September, the four of us were inspired by an idea that we never thought would turn into such a blessing for so many affected families!" Bridget Duhon said. "Within 3-4 days of phone calls, we maxed the sale out at 150 lots."
Victoria Lambert, editor of The Brahman Journal, volunteered her time and the Best Cattle Sales Online platform to host the event.
Due to the overwhelming support of donors across the country, the auction had to be split up into two separate sales – one with live cattle, semen and embryos and the other containing hunting trips, fishing trips and everything else. There was also an additional area where people could make donations.
The sale platform reached over 650,000 clicks during the auctions. The outpouring of generosity from both the bidders and donors was utterly amazing and an inspiration.
"It was so touching that so many people in this breed were willing to open their hearts and checkbooks to help those in need," Joshua Duhon said.
100% of the proceeds were put into the hands of affected junior Brahman and Brahman-influence exhibitors, who suffered damage during Hurricane Laura. The recipients included kids who show Simbrah, Brangus, Beefmaster and Brahman cattle.
The online version of this edition of The Brahman Journal will be available all year long. Please look to the online edition of the magazine for "Thank You Letters" from some of the recipients of the relief effort. These letters are truly inspiring and touching.
THANK YOU TO EVERYONE WHO DONATED AND BID!
007 RANCH
AARON DORE
AARON ROEBUCK
ADAM AND LESLIE NORMAN
ADAM NONNAN
ALVIN EQUIPMENT
CHAD BEAVER
ARMANDO AVILA
AT BRAHMANS, GARRETT AND
JORDAN THOMAS
AVILA FARMS
B & B LAND AND CATTLE CO1NPANY
BABE SCOTT
BAR P BAR CATTLE COMPANY
BARRY SMITH
BB CATTLE CO
BENTKE CATTLE CO
BEST CATTLE SALES
BETH ARMENTOR
BILLY ARDOIN
BILLY WOLF
BOB MORRIS
BOGUE CHITTO CATTLE
BOVINE HEALTH SERVICES
DUSTIN MARSH
BOWFISHING UNLIMITED
BOX R CANEY CREEK CATTLE
BRAD AND RACHEL GONCE
BRADLEY ARMS
BRETT SMITH
BRITTANY DUHON ORIGINALS
BROOKE ENGLAND PHOTOGRAPHY
BROWNIE'S RANCH – SHANIN
AL-NASIR
BRUSHY CREEK
BULLSEYE RANCH, THE SMITH
FAMILY
BUTLER FARMS, RICKY BUTLER
CANNON CREEK RANCH, KENDALL
SHEPPARD
CARTER EMBRYO TRANSFER SERVICES
CASARAY RANCH
CAVENDER RANCH
CE CATTLE
CECIL WILLIAMS JR.
CESAR CASTRO
CHAD AND WINDY PETREK
CHAD EATON
CHARLES WELLMANN
CHASE TIMMONS
CHERAMIE VIATOR
CHIP DUBON
CHORIZO DE SAN MANUEL
CHRIS ALLEN
CIRCLE G FARMS
CLINT FREYOU
CONNIE SMART
CORY FORESTIER
CRAIG VALDETERO
CUATRO STRACK
D & B FARMS
DANIEL ACEVEDO
DANNY & DANIEL DOMINGUEZ
DANTON HEBERT
DAVID LAWRENCE
DEBBIE MCWILLIAMS FRY
DECKERT CATTLE
DEREK FRENZEL
DERRICK MELONCON
DIAMOND K RANCH
DOGUET'S DIAMOND D RANCH
EAST TEXAS RANCH, RICHARD
CHAMBLEE
EDDIE WILSON
ELGIN BREEDING SERVICE
EMMONS RANCH
ERIC ALAINIS
EXCELENCIA CATTLE COMPANY
FEED PRO, THE LANDRY FAMILY
FIELDS CATTLE
FIG RIDGE BRAHMANS
FORGASON CATTLE COMPANY
FR BRAHMANS, FRANCIS RUSH
FUCHS FAMILY
G & H OUTDOOR STORE
GARETT MOORE
GARRETT THOMAS
GERALD SMITH
GKB CATTLE, GARY AND KATHY
BUCHHOLZ
GORDON WILSON
HAGAN CATTLE COMPANY AND
JOSEPH BLOUNT
HARFT FARMS
HECTOR SANTACRUZ
HENSGENS BROTHERS CATTLE
HERZOG CATTLE
HK CATTLE
HM CATTLE CO, HONDO MARTINEZ
FAMILY
HOLLIS KEENE
HOLLOWAY SHOW CATTLE
HOOFSTOCK GENETICS
HOUSTON MUNSON
HUNTER FORESTIER
HUNTER SOAPE
IS RANCH AND IS FITTING SERVICES
ISOM COWEY
J & L CATTLE SERVICES, JOE AND
LANNA HENSGENS
J.D. HUDGINS – WILLIAM L. HUDGINS
DIV.
J.D. HUDGINS – GOUDEAU DIV.
J.D. HUDGINS – HUDGINS DIV.
J.D. HUDGINS – LOCKE DIV.
J.D. HUDGINS. – FORGASON DIV.
J4 CATTLE, CUATRO STRACK
JACOB MORRIS
JAKE MATTHEWS
JAMES HEWITT
JANIK CATTLE COMPANY
WESLEY JANIK
JARROD CAVNESS
JASON SMITH
JAY HARDY
JIM BUTLER
JODY DRAKE
JOE & LANNA HENSGENS
JOE ROBERTSON
JOHATHAN WINN
JOHN GOODE
JOHN HENSLEY
JON & NICOLE WILSON
JOSHUA DUHON
JUAN RESTREPO
K BAR FARMS, CAROLYN FALGOUT
KATE RICHTER
KEITH BELL
KEN RAMSEY BRAHMANS
KENDALL LONG
KL CATTLE COMPANY
KOBEY DAVIS
KOLTEN THIGPEN
LA MUNECA CATTLE COMPANY
LAUREN BOEKEL
LEX AVE CATTLE CO.
DAVID LAWRENCE
LORNE MILLER
LOUIS FLORES
LUCHCRK CATTLE COMPANY
TUN LUCHCRK
M.P BRANGUS
MANDY FISCHER
MARSHALL FARM
MELISSA NICHOLS
MICHAEL SCHULTE
MICHELLE HENSGENS
MID SOUTH CATTLE COMPANY,
MICHEAL AND LISA NEAL
MIKE ENGLAND
MN RANCH, MIKE NAVARRO
MONTERIA SYNDICATE
MORENO
NAN HUFF
NBI INDUSTRIES
NICK HENSGENS
NOELLE WILSON
NONNA JEAN PAYNE
NORTH FORTY
JEFF & DEBORAH TOWNSEND
OLD COLITA RANCH – MIKE SHELTON
PASQUALE SWANER
PAUL WBJTTINGTON
PHIL DRAWDY
PHILLIP CATTLE COMPANY
POOL FARMS
RADAR HEREFORDS
RAFTER M CATTLE
RAMIRO SALINAS
RANCH HOUSE DESIGNS
RAO'S BAKERY, THE TOTORICE FAMILY
RAZORBACK FARMS
REDSMITH GENETICS CORP.
RICH CATTLE COMPANY
RICHARD LONGORIA
RL & KRISTI SHELLEY
ROBERTO DAVILA
RODRIGUEZ CATTLE SERVICES,
MAURICIO RODRIGUEZ
ROGERS AND TESCH FAMILIES
ROY BAKER
RUBEN GONZALES
RUDDER FFA. JAMES CONNER
RWRANCH
SALINAS RANCH, RYAN SALINAS
SANTA ELENA RANCH
THE MUSKUS FAMILY
SATTERFIELD RANCH
SCHULTE CATTLE COMPANY
SEALE BRAND
SLASH S FARMS
STEPBEO FOLSE
SMITH GENETICS
SRS LAND AND CATTLE
SPARKS FAMILY
ST GENETICS
STALWART RANCH, BILL CAWLEY
STEPHEN FOLSE
STEPHEN LEE
SWANER BRAHMANS
PASQUALE SWANER
TANYA HEBERT
TASSIN CATTLE COMPANY
THE BENAVIDES FAMILY
THE FLORES FAMILY
TIM COUCH
TIMMY FENTRESS
TRANS OVA GENETICS
TRIPLE H CATTLE COMPANY
TRIPLE JR CATTLE CON1PANY
TROY BAKER
TROY TESCH
TURNER BRAHMANS
CHRIS AND JAKE TUN1ER
TY WILLIAMS
TYLER HUGHES
TYLER KOEHN
V8, THE WILLIAMS FAMILY
VAL WALTERS
VF FARMS, THE VONDENSTEIN
FAMILY
WADE HARRIS
WALTERS LIVESTOCK
WATKINS CATTLE CO.
STUART WATKINS
WAYNE NEWMAN
WEDGEWORTH CATTLE COMPANY
PLEASE NOTE: We have tried to the best of our ability to include all the donors that helped make this sale possible. We apologize if we have left anyone off this list and thank you again for the support of the youth.