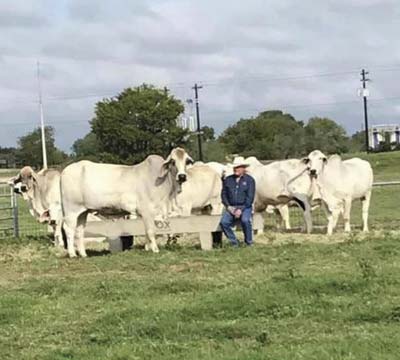 RB Cattle owned by Rodolfo and Sara Bazan located in Dilley, Texas held their "Gorgeous in Grey" Production Sale Vol. II on October 10 at the Texas A&M University Beef Center in College Station, Texas.
"The sale was a huge success" sale manager Chris Shivers said."There was extreme interest in the high quality of cattle people have come to expect from RB Cattle. We had bidders from six states!"
The offering was outstanding and consisted of 52 lots of cow/calf pairs, bred females, replacement heifers, show prospects, aspirations, and semen packages. This elite offering of genetics was purchased by 15 buyers from Louisiana, Oklahoma, Texas and Missouri either in person or online via Cattle in Motion.
The Overall High Selling Lot was Miss RB 987/5 "Joy" a proven donor who had offspring in the sale. She was purchased for $8,750.00 by Robert Zamora's Z6 Cattle of Tishomingo, Oklahoma.
The Volume Buyer of the day was the Floyd Ferrell Farm of Sikeston, Missouri with eight head purchased.
The following are the results of the sale: 52 Lots Grossed $263,725.00 for an Average of $5,071.63/Lot
AVERAGES:
8 Show Heifers: $5,325.00
28 Exposed/Bred Females: $5,573.21
7 Cow/Calf Pairs: $5,192.86
5 Aspirations: $4,860.00
4 Semen Packages (5 straws): $221.20/straw
RB Cattle appreciates the interest in this sale and the support of their many friends and customers. They plan to host a sale in the Spring of 2021 with details coming soon.
The sale was managed by Infinity Cattle Services owned by Chris Shivers of Houston, Texas.