The 33rd Annual American Brahman Breeders Association (ABBA) National F1 Sale and TBA Brahman Female Sale was held May 9, 2020, in Caldwell, Texas, managed by Milton Charanza of Broken Triangle Cattle Marketing. The sale took place at Caldwell Livestock Commission, owned and operated by the Herrmann family of Caldwell, Texas.
The demand for F1 replacement genetics was high, despite the current markets. More than 50 breeders from Texas, Louisiana, Oklahoma, and Arkansas consigned nearly 800 head of cattle to this year's sale. Buyers represented Texas, Louisiana, Arkansas, and Georgia. More than 150 registered buyers were in attendance, and the live sale broadcast with Cattle in Motion had 180 viewers and active bidding throughout the entire sale.
The sale was dedicated to Graham Land and Cattle for Dr. Charles Graham's commitment and dedication to the industry, specifically the Brahman influenced commercial industry.
For many years, with their help, the Brahman breed dispelled unwarranted untruths and prejudices by demonstrating the positive attributes of the breed and of its abilities and contributions to the beef industry. Specifically recognized are the owners of Graham Feedyard, Charles W. and Tyler Graham, General Manager Jay Gray, Yard Manager Maurice Janda, and Financial Director Josh Gray.
The sale management team would like to give special thanks to the corporate and gold sponsors, as well as the many silver and ranch sponsors that made this sale possible.
CORPORATE SPONSORS
American Brahman Breeders Association, Texas Brahman Association, Graham Land and Cattle, and Positive Feed, Inc.
GOLD SPONSORS
Producers Cooperative Association and The Brahman Journal
Consignors with the high selling lots included: H&M Cattle Co., John Malazzo Farms, Umphrey Land and Cattle, Triple Son Farms, Creed Cattle Co., Les and Donna Morgan, Pratt Farms, Terry Novak Ranch, Alford Cattle Co., Novak Ranch, Rob Hill, Beck Ranch, 5R Land and Cattle, La Four Cattle Co., Triple S Cattle, Randy Howard, Mann Cattle Co., Broken Triangle Cattle Co., and Martin Schwartz.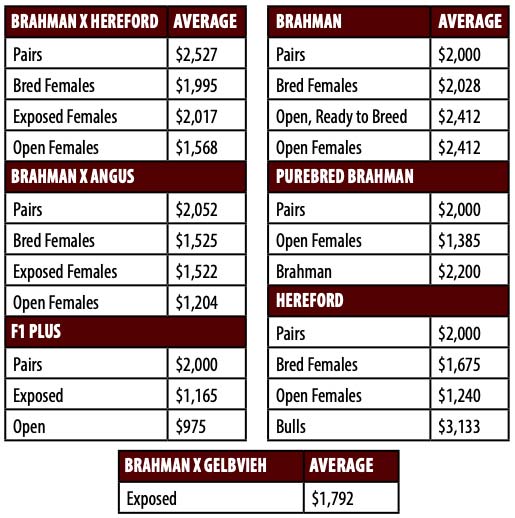 ABBA NATIONAL F1 SALE DEDICATIONS
2007 – Russell Roy Greene, Kaplan, LA
2008 Robert W. Massey, Inez, TX
2009 Wendell Schronk, San Antonio, TX
2010 Max Watts, Frost, TX
2011 J. D. Sartwelle, Jr., Sealy, TX
2012 James A. Theeck, Brenham, TX
2013 Gary Hartman, Stockdale, TX
2014 Glen and Rosalie Richardson, Sonora, TX
2015 John Malazzo, Caldwell, TX 2016 – Bill Crain, Pearsall, TX
2017 Jon Weil, Livonia, LA 2018 – Robbie Hamilton, Wharton, TX
2019 Henry & Mary Catherine Novak, Danbury, TX
2020 Graham Land and Cattle Company, Gonzales, TX