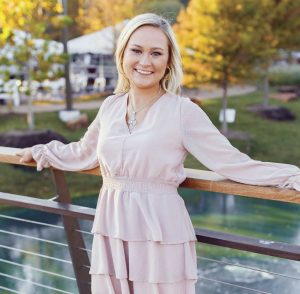 Howdy! My name is Caydi Blaha, and I am very excited to have been selected as the Director of Communications and Youth Activities for the American Brahman Breeders Association (ABBA).
I have worked at the ABBA office for two years, as a student worker, so I am looking forward to taking on this new role in a whole new perspective.
I was born and raised in El Campo, Texas where my family raised and showed Santa Gertrudis cattle. I attended Texas A&M University where I received a Bachelor of Science in Agriculture Communications & Journalism and a Bachelor of Science in Agriculture Leadership & Development.
I have hit the ground running in this new year with some new and exciting things! I have decided to start back up on sending out a monthly newsletter, "The Brahman Bulletin." This newsletter will serve as your go to for getting information straight from the ABBA office.
If you would like to subscribe, text BRAHMAN to 22828 and join our mailing list. By doing this you will receive Th e Brahman Bulletin, as well as any other emails that we send out. This is one of our busiest times of the year, and this will be the best way to stay up to date on all the information.
In my time as a student worker with ABBA, I was given the opportunity to be an intern at the 2021 All American National Junior Show. I was able to meet and get to know several junior members and directors during this spectacular week.
We have such a great junior program, and I am really looking forward to getting to work with all the juniors! The 2023 All American National Junior Show is set to take place in Texarkana, Arkansas from June 24th through July 2nd.
We invite all our junior members to participate in this awesome event. Be on the lookout for more information about the 2023 All American!
Caydi Blaha