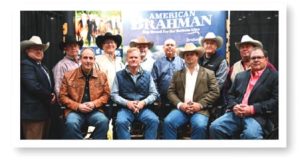 As your newly elected president, I would like to start by saying thank you. First, thank you to all the members of the American Brahman Breeders Association (ABBA) for your continued support of the association. Second, thank you to the ABBA office staff who continues to provide outstanding member services to our members. They do an excellent job promoting our breed and I would like to thank each of them for their hard work and dedication to the members and this great breed of cattle we so dearly love.
As we move into 2022, I would like to highlight some areas that will be focus areas for myself, our leadership team, as well as Dr. Mask as we work through this coming year.
New ABBA Office – The ABBA has been leasing office space for XX years, first in Houston and now most recently in College Station, Texas. Prior to that time the ABBA owned a building near the Reliant Center. When that building was sold the sale proceeds were set aside for a new office building. This "building fund" was put into an account that has paid little to no interest for many years. It is now time for the ABBA association to move forward with plans to have our own office building once again. I am sure many of you have heard Texas A&M has made a generous offer to allow us to lease land on their campus for our building. This is one option that needs to be explored, as well as other options which could include buying our own land. This project will take time to evaluate properly. I believe we have a great team of people on the finance committee who will lead the charge on this project, working in conjunction with Dr. Mask and the ABBA staff. My goal will be to present options to the Board for review at the summer board meeting.
World Brahman Congress 2024 – The ABBA is the global leader in Brahman cattle. As we celebrate the 100th anniversary of the ABBA, we have the remarkable opportunity to also host the World Brahman Congress. As we continue to lead the world with our genetics, we will produce an event that will showcase what the American Brahman can do for the world's beef industry. The planning for this event starts now, and the planning for the structure and location of the 2024 Congress needs to be completed this year. It will take a tremendous amount of organization, logistics, and strategy planning to make this the best Congress the world has ever seen. I will be working on creating a committee whose members' only responsibilities will be to plan and organize the Congress. If you would like to be part of this team, please let me know.
DNA Protocols – The ABBA has implemented, and then changed, and then suspended DNA protocols and rules for the last 6 years or so. We need to come to an agreement and decide on a path forward for our DNA procedures and protocols for the DNA rules and regulations within the breed. A team has been designated to start this process and look at various options to move forward. Our goal will be to provide guidance to the board in 2022. As always, the team will look at various options on how we move forward with DNA protocols. Please keep in mind that we will make every effort to keep everyone up to date as we work through these protocols.
My vision for my presidency is to bring together ABBA members – all who love our breed – in a united effort to promote the vital role Brahman cattle have in the beef industry. We all love this great breed of cattle and need to continue to promote Brahman cattle, as they play an important role in the beef cattle industry. As breeders, we know our Brahman cattle can offer things to the industry that no other breed can offer. But we must understand that we, as a breed, have allowed other breeds to get ahead of us by using technology to improve their cattle marketing. It is time we move forward in a spirit of innovation and unity as a breed and embrace these emerging technologies to help promote our cattle.
Thank you,
Barry Smith