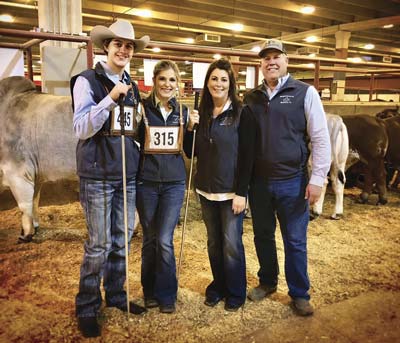 Schulte Cattle Company of Brenham, Texas offered an elite group of six haltered show prospects for sale on The Brahman Journal's online sale platform Best Cattle Sales.
The sale closed on October 27 and went extremely well, with lots of demand from breeders across the southern United States, Thailand and Mexico.
"We would like to send out a huge thank you to everyone who looked, called, commented, shared, bid and purchased on our very first production sale," Kaysee Schulte said. "The positive response we received was overwhelming."
The sale averaged $6,550 on six lots.
"It's always a little scary to take a big step forward in anything you do, but we felt we have reached a level of quality in our cattle we were proud to offer to the public," Kaysee Schulte said.
The high selling lot was a polled heifer named MISS SCC SCHULTES APPLE, and she sold for $11,200. "Apple" is a +MR. V8 279/7 (P) daughter out of the champion dam MISS SCC VICTORIA'S GEM 47/2, a JDH MR DWAYNE MANSO daughter. The second high-selling lot, MISS SCC SCHULTES AUDREY, was a full sister to the high-selling lot. She went for $7,700 and was polled as well.